MAY 2019 – UGCA trip to Sapelo Island with Lund Club for odonate survey and metal ant nest casting

MARCH 2019 – UGCA bug displays at Atlanta Science Festival, Chattahoochee Technical College

MARCH 2019 – UGCA volunteer, Branden Everling, updating holdings lists of beetles

DECEMBER 2018 – Museum interns wrap up Fall 2018 projects

DECEMBER 2018 – Rick Duffield visits and donates large collection of Coleoptera
DECEMBER 2018 – Linden finishes curation internship project on beetle dissection collection

DECEMBER 2018 – Roy Morris donates large collection of Coleoptera

NOVEMBER 2018 – Luiz Silveira visits UGCA to work on Neotropical Lampyridae
OCTOBER 2018 – Gavin Martin visits UGCA and works through our North American Lampyridae

SEPTEMBER 2018 – Linden helps to set up a new display of metal castings of ant nests in the Bio. Sci. Building

SEPTEMBER 2018 – Rick, Maisha, and Joe at the UGCA station at Insect-ival

AUGUST 2018 – Insect Taxonomy class visits UGCA

JULY 2018 – UGA President Jere Morehead with UGCA interns

JUNE 2018 – Dawn Flynn, Curator of Arthropods at the Schiele Museum, visits to study our holdings of Membracidae
JUNE 2018 – Our summer LepNet team is busy digitizing butterfly and moth data.  Our total number of LepNet records is now approaching the 10,000 mark.
APRIL 2018 – Doug Booher, UGCA Associate, doing postdoc research on ants

FEBRUARY 2018 – Mike Caterino visits UGCA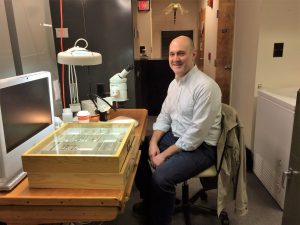 FEBRUARY 2018 – New interns at work in collection

SEPTEMBER 2017 – Insectival at Georgia State Botanical Garden
AUGUST 2017 – Museum interns processing donation by Dr. Henry Stockwell
AUGUST 2017 – Insect Taxonomy class visits UGCA
JULY 2017 – Visit by UGCA associates Henry Stockwell and Dawn Flynn
JULY 2017 – Visit by Mike Ivie
JULY 2017 – LepNet summer team works through Lycaenidae, Hesperiidae, Saturniidae, and Sphingidae holdings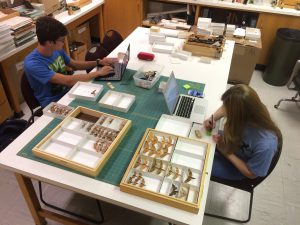 MAY 2017 – CAES video released about Lep Net Student Interns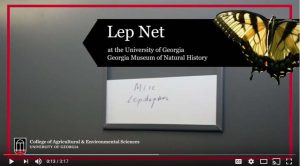 MAY 2017 – Visit by Andrei Sourakov, Collections Coordinator, McGuire Center
APRIL 2017 – Cali-N-Tito's dinner with our wonderful museum interns
APRIL 2017 – Busy hive of intern activity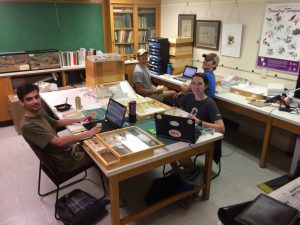 APRIL 2017 – Rick and Joe sorting Saturniidae in preparation for LepNet databasing
FEBRUARY 2017 – UGCA interns digitizing swallowtail butterfly specimens for LepNet Project
FEBRUARY 2017 – Nathan Lord and GCSU Honors Program students visit UGCA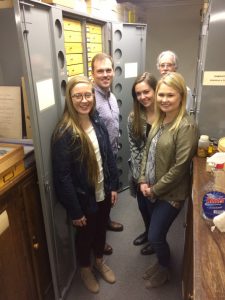 AUGUST 2016 – Preparing Papilionidae for digitization
AUGUST 2016 – Rowland Shelley visits the UGCA to study the myriapod holdings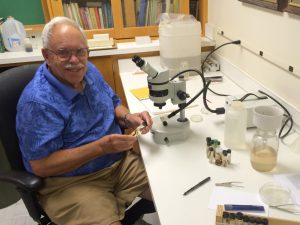 AUGUST 2016 – UGA Insect Taxonomy class visits 
NOVEMBER 2016 – iDigBio Summit, Chattanooga, TN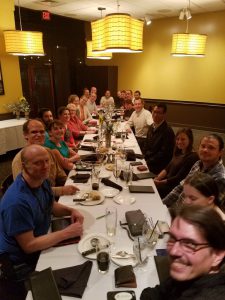 JULY 2016 – National Science Foundation funds Lep-Net Project, supporting the digitization of Lepidoptera specimens at the UGCA

SUMMER 2016 – UGCA specimens on display at Hargrett Library for exhibit "John Abbot, Early Georgia's Naturalist Artist"
---
SUMMER 2016 – Exhibit of Virtual Roach Project at Hargrett Library and evening lecture
---
JULY 2016 – Blaine Mathison donates collection of specimens and literature
---
MAY 2016 – Harry Brailovsky and Fred Skillman visit
---
MAY 2016 – Lund Club/UGCA annual field trip, Sapelo Island
---
May 2016 – Joined Cross Expedition from Mississippi Entomological Museum for field work in Rabun Co., GA
---
MARCH 2016 – Snodgrass and Wigglesworth Undergraduate Entomology Club from Cornell University visits 
---
MAY 2015 – UGCA/Lund Entomology Club field trip to Sapelo Island
---
DECEMBER 2014 – Reference collection of U.S. termites and Vietnamese ants deposited in UGCA
---
JULY 2014 – Arthur Benke donates extensive collection of aquatic insects from the southeastern U.S.
---
DECEMBER 2012 – Consolidation day!   UGCA range expands and off-campus collections relocated to GMNH Building