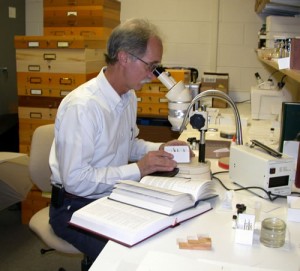 General Services
The UGCA staff annually replies to hundreds of requests for information and identifications of insects from the general public, students, researchers, and governmental agencies. These services are provided as time and staffing permit.
Identification Requests
Because scientific names are the key to access all published information about organisms, accurate identifications of specimens are often needed before informed decisions can be made in medical, legal, agricultural, ecological, and other settings. Currently, there are nearly a million insect species known to science. Authoritative identifications of insect species often require assistance by taxonomic specialists. Working with the available scientific literature and a large research collection of specimens, the staff of the UGCA can serve this role.
For-profit entities should contact the curatorial staff to discuss a contractual arrangement for taxonomic services.