January 31st
My name is Vivian Yang and I am currently a senior studying food science at UGA! After a fall semester of hard work that went into preparing to study abroad, I am so excited to finally begin my time in Zurich and I look forward to sharing some of my most memorable experiences with you all on this blog. It feels almost surreal to be able to cap off my senior year with a study abroad experience and I don't think the reality of studying in another country will fully sink in until I touch down in Switzerland. Although I'm feeling a little anxious about adjusting to a new learning style and figuring out how to navigate around the city, I eagerly await all of the new experiences that Zurich has to offer. I can't wait to make some new friends, try some delicious Swiss foods, and put some miles on my new hiking boots. I've signed up for a pre-semester German language course in the beginner A1 level, so I'm heading to Zurich two weeks before the real semester starts. I think this will be a great way to get acclimated and get to know my way around the city a bit.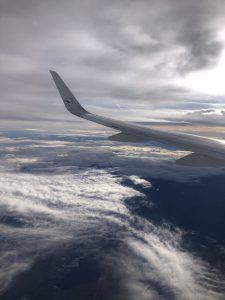 February 7th
My first week in Zurich was a huge learning curve! It's definitely been an adjustment getting used to taking public transportation every morning and I have been taking the time to familiarize myself with the offerings at the local grocery stores. I plan to cook most of my meals and eat in the Mensa (German word for dining hall) a few times a week while I'm here to save on costs. I'm living in a flat with 14 other people (some who have already been here a semester) that is about 40 minutes outside of the city center so I get to see quite a bit of the city during my daily commute. If there's anything I've learned so far in my first week, it's that the Swiss are truly an organized and punctual people. I have yet to encounter a bus, tram, or train that is running behind, and all of the necessary paperwork and registration that I need to complete is planned out to me by the month on a handy pocket calendar provided by ETH. The German language course that I have been taking has been a great way to meet people and learn a little of the language. I had my first taste of Swiss chocolate this week after our team won the prize for the vocab review game, and I have to say that it's truly the best chocolate that I have ever tasted.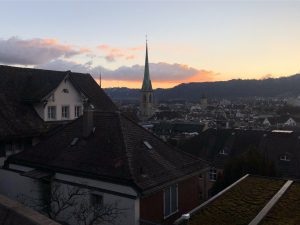 February 14th
Today we took a field trip to Zoo Zurich to celebrate the end of our language intensive! I had a great time roaming around with some of my buddies and was delighted by how interactive the zoo experience was. The exhibits are large and structured to showcase the animals in their natural habitats as much as possible. It's been a great two weeks so far and I'm looking forward to the start of classes on Monday!