February 15th
This weekend I took my first weekend trip with my friends to the nearby city of Konstanz that is right on the German border with Switzerland. The first thing I would recommend to any student studying in Switzerland who is planning any kind of travel by train is to purchase a half fare card. This card allows you to travel anywhere in Switzerland by train for half the listed price. If you're planning on frequent train travel and you're under the age of 25, the seven25 travelcard is another great investment because it allows you to ride the train for free after 7 pm. Upon arrival in Konstanz, we decided that the thing to do was to walk the length of the gorgeous lake complete with white swans until we reached a little peninsula that allowed us to see Germany, Switzerland, and Austria all at once. Since food and many goods are more expensive in Switzerland, my friends and I took the opportunity of being in Germany to have a nice burger lunch and do some shopping for house goods and school supplies.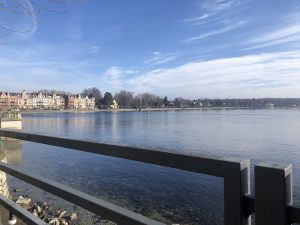 February 21st
I've finished my first week of classes and I've had a wonderful time exploring the campus. The buildings at ETH are Classical Renaissance style and oftentimes when I walk around (and get lost) in the maze of hallways and staircases that make up the main building (Hauptgebaude), it feels almost as though I'm in the castle at Hogwarts. Studying at ETH this semester is a wonderful opportunity for me to broaden my knowledge on topics that I wouldn't get the chance to learn as much about at UGA. It's been really interesting to observe how classes at ETH differ from those offered at UGA. The main things that I've noticed so far are that the professor for each course changes out every few lectures so that different topics are taught by subject matter experts in their respective fields, the students here applaud at the end of every lecture, and that people take their mid-morning coffee and pastry break quite seriously. I've had the opportunity to try a few pastries from the campus café, and they've all been delicious!
February 23rd
This weekend, I took a quick trip to the beautiful Swiss town of Luzern with some friends. Soon after we arrived in the city, we decided to go for a small hike in the hills around the city so we could get a better view of the lovely Swiss Alps in the distance. In the afternoon, we were lucky enough to catch Luzern's famous Carnival parade (Fasnacht), that celebrates the end of winter and serves as chance for people to relax and revel in chaotic and fantastic before the penitential Lent period. My friends and I had a great time enjoying the crazy costumes and floats that made up the parade as well as the little treats that the people on the floats threw as they passed by.