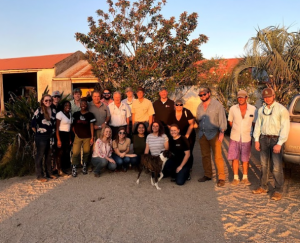 The most exciting aspect of the trip was learning about the actual daily living experience in Uruguay and not just visiting tourist sites. I did not know what to expect from Uruguay. From the owners of the farms to the street vendors and waiters, everyone we met was kind, accepting and passionate about their community and lives.
The most memorable proud Uruguayan is of course Bruno, who prepared our entire trip with so much love for our travel group and for his country. When I arrived in Uruguay, I was a bit nervous since I didn't know what to expect, but as soon as I met Bruno, those worries went away. I knew we were in good hands. During the farm visits the people were passionate about their products and practices. The rice production researchers from INIA were excited to show us the facility and all of their research pastures. The beef producers from Los Tilos, El Paraiso and El Cristal had a clear love for their work and cared about the quality of their products. The wine producers in Alto de la Ballena explained to us the origins of their facility, and how their interest in wine making led to them leaving their professions.  
Outside of the farms I also had many fond memories. In Montevideo, my favorite memory was when a group of us girls went out to get dinner during our free time. Our waiter was very kind and hilarious. He even gave us recommendations of activities we could do during our free time the following day. We stayed and talked for hours; us girls started to form a bond that lasted the whole trip. In Colonia, we met a very kind hand-crafted pottery street vender. He gave us small bracelets and told us of his past experiences with tourists. He spent hours on his crafts and enjoyed the people he met because of his products. Finally, in Punta del Este a small group of us met a store clerk during our free time, who gave was a blast. She promised us that she would take the best picture of us during our whole trip. I must say she did, we had on ridiculous props with a sign pointing towards the beach. Sadly, I do not have the picture with me but I'll always remember the friends I've made on this trip and the beautiful people I met along the way.