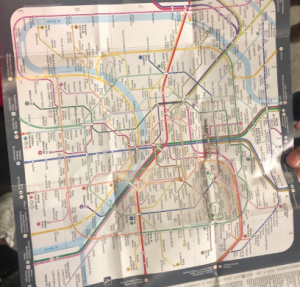 Uber is always the go-to method of public transportation here in the United States. In Athens, Uber is pretty much the only way to get from place to place directly, just short of the buses. As if navigating a new city is not hard enough, it adds a new twist when you cannot speak the language or rely on consistent cell service.
In most of the major cities we visited, such as Rome, Paris, and London, we would have a paid day pass for the planned visits of the day. Our professor would give us tips for navigating as we all tried to jump on and squeeze in a car together at once, then encourage us to use the day passes as much as we could at nights and in our free time. Even with this brief crash course, it was still a wild experience doing it on our own.
The underground system in Rome was easy enough, two lines ran back and forth across the city, and we knew the stop for home. The group was feeling fairly confident as we moved on to Paris, which was a big mistake. Wanting to see the Eiffel Tower at night, we set off on the Metro. This system was very different than what we had become used to: there were multiple lines, different platforms for the directions of the lines, and maps where we could not even find our current location. Once we figured out the route and line changes we needed, we set off. Until our next line was closed. After much arguing and contemplation of a taxi, we finally made it to The Eiffel Tower!
After this experience, London came as a breeze and I feel completely confident of using the subways in a foreign country! As an economical way to travel aboard, stumbling around the Paris metro gave me this self-assurance!