I knew since my freshmen year that I wanted to participate in the Viticulture and Enology study abroad. I knew to a certain degree I liked wine and wanted to study a unique agricultural industry. This program went above and beyond EVERYTHING I had predicted.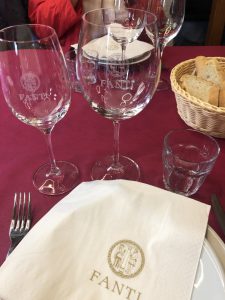 First, you truly do learn from planting to fermentation how wine is made. You learn about the different mechanisms and methods viticulturists use to cultivate the best grapes. Then, learning how enologists take that product and create renowned wines. All this learning occurs not only in the classroom, but on field trips where the class goes to different cities and visit vineyards and learns from experts in the Tuscany region. The field trips are so much fun, and the professors and staff ensure you get the most out of your time in the towns with suggestions on things to see and do.
Second, you learn about the wine itself. How to truly appreciate it. You learn how to make notes on the wine. How to pair the wine. How to order wine. How to detect if a wine is not right. At the end, you leave Italy with an astounding knowledge of wine itself. Your family and friends might think you are being too fancy, but you truly learn an appreciate of the craft. You realize wine is living and breathing. It is forever changing.
Third, you do go beyond wine. Some students were shocked when learning about growing grapevines. It is crazy how many different pieces go into growing the grapes. Everything from soil to elevation. You get to experience this on the field trips when talking with viticulturists and seeing the classroom concepts in real life.
Overall, I cannot recommend this study abroad enough. You live in a town where UGA has had a campus for fifty years now and meet people who really do become a family. You leave Italy with more knowledge, growth and friendships you thought possible.