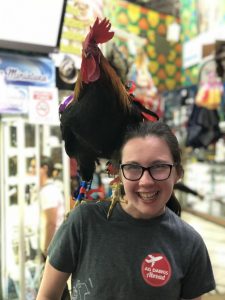 Today, I went to a market in San José, and I had an amazing experience finding the perfect sticker for my water bottle from Costa Rica. I ended up finding something that led to an incredible picture for my scrapbook; I found a chicken! This wasn't just any old chicken. It had ribbons in the feathers and was super friendly. I asked the owner of the store if we could take a picture together, and much to my surprise, he placed the chicken on my shoulder before I knew it and said to SMILE! This became one of my favorite pictures from the trip because I was wearing my Ag Dawg Abroad shirt, and it was a once in a lifetime opportunity for sure.
This experience was directly after an interesting tour at Café Brit, which was more entertaining than the very meaningful, educational coffee tours we had earlier this week. The one thing I enjoyed at Café Brit was the butterfly garden that they had by the gift shop. I took some amazing pictures of butterflies that I have never seen before. Because this trip was primarily focused on  learning about coffee production, tasting coffee, cupping exercises, but most importantly LOVING coffee, it was amazing to see these beautiful butterflies, because this experience expanded my cultural awareness of Costa Rica as well as strengthened my trust with my classmates, professor, and teaching assistant.
This study abroad experience emphasized the compassion and encouragement that is found in coffee production, which was especially apparent during the family interactions and conversations with the farmers that we experienced during the coffee plantation tours. Victor's farm was one of my favorite places we visited because I loved the coffee at the UGA Costa Rica campus. Victor was so passionate about producing a quality cup of coffee that he focused on sustaining an organic coffee plantation to produce high quality coffee without impacting the surrounding environment. It was absolutely incredible to try the different blends at Café Brit and be able to critique them by using the cupping techniques learned in our first lab. Until I'm able to study abroad again, this will forever remain as my favorite trip yet and definitely the best birthday ever by far!