Costa Rica is non-stop. Everyday is a new adventure between all of the small coffee farms we have been visiting. It is incredible to learn all the different process a coffee bean has to go through in order to go to the consumer's cup. The coffee farmers are so eager to share their knowledge about their coffee plants including the diseases that effect the crop, their horticultural practices, and their personal preferences for coffee.  The farmer's family even open their homes to us and provide us with a fresh cup of coffee and a tasty Costa Rican snack after the tours.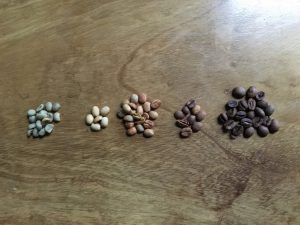 Even when we are on the UGA Costa Rica campus, there are adventures. My new friend and I went on a hike during our free time and saw the most incredible views of waterfalls and mountain ranges. Costa Rica is full of exotic birds and creepy bugs everywhere you go. In fact we had an encounter with some while we were hiking. The hike starts off as a very enjoyable slow walk taking some pictures along the way. Then my friend wanted to climb one of the trees and pose like a sloth for a social media post. After a couple failed attempts, she tries one last time but then notices something tickling her neck. We realized that she was right in the middle of a spider nest and they were climbing all over her. She managed to get them off of her, but we were both so freaked out that we ran the rest of the trail which was a straight incline. After running for what seemed like miles straight uphill, we made it out of the woods. Then we just looked at each other and laughed until we couldn't breathe (which was partly due from the running).
As the trip continues, I feel like the days are going by more quickly than normal. Each day we are learning cool new facts about coffee and the production of coffee in Costa Rica. It is also amazing to know that the small privately- owned coffee operations we have visited are sustainable and the farmers engage in environmentally friendly practices. These farmers, who have little capital in comparison to an American farmer, genuinely care about the environment and take their own initiative to reduce their carbon footprint.