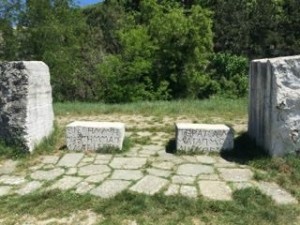 It happened – I'm that guy. I swirl my reds and check for reduced or oxidized aromas. I decant, I airate, I chill. I don't spit because that's too French, but I might use some ortho and retro-nasal breathing to detect aromas. I arrange my wines by tannin strengths and ask about fermentation processes in relation to acidity. I can smell a Brunello a mile away and my favorite wine so far is about 40 euros. I ponder whether the clarity of the wine is due to clay soil or filtration. It's official. I'm a wine snob, and it is so much fun to be that annoying. Our first test has passed and all of the students are becoming more and more snobbish, probably to the delight of our teachers. Our journals don't say 'fruity' they say 'sour cherry with less acidity than a pinot'. We have visited wineries in the area like Fanti and Antinori and Barrachi, and ogled their helicopter pads and balconies and rows and rows of grapevines. We've compared their pruning styles and fermentation methods and innovations. Along the way we've seen Assisi and Florence, from churches to art galleries. The real test for me, however, won't be whether I can detect a bell pepper finish or alcohol heat, but if I still like my previous favorite $8 bottle blend from Kroger. Hopefully some things never change.
While Italy is as splendid as it can be, on the home front, four girls to a room is predictably not heaven. When they all have different sleeping habits and seems to discriminate based on major, sorority, or hair color – it makes for some tense times. I warn anybody going on this trip – love the wine! Enjoy the sights! Absolutely make friends with the Italians, especially at Tonino's, our gracious restaraunt. But for heavens' sake if your roommates don't all get along, stay out of that room as much as possible and don't let small things make a big impact on your trip.
Other tricks of the trade:
Snoopy's has the best gelato but the other place has candy flavors.
The cheapest lunch is at Molesini's super market by the steps for 4 euros and it's real good.
Eating on the steps is great for people watching.
There's an Etruscan well and an Etruscan tomb hidden in town.
Behind the fort on the top of the hill is a stone bench with Etruscan writing – and it's the best place to watch a sunset.
Antinonella is one of the staff and she takes care of all the cats at the top of the hill. Louie is the old blind one and he really appreciates some scraps now and then.
more to come!