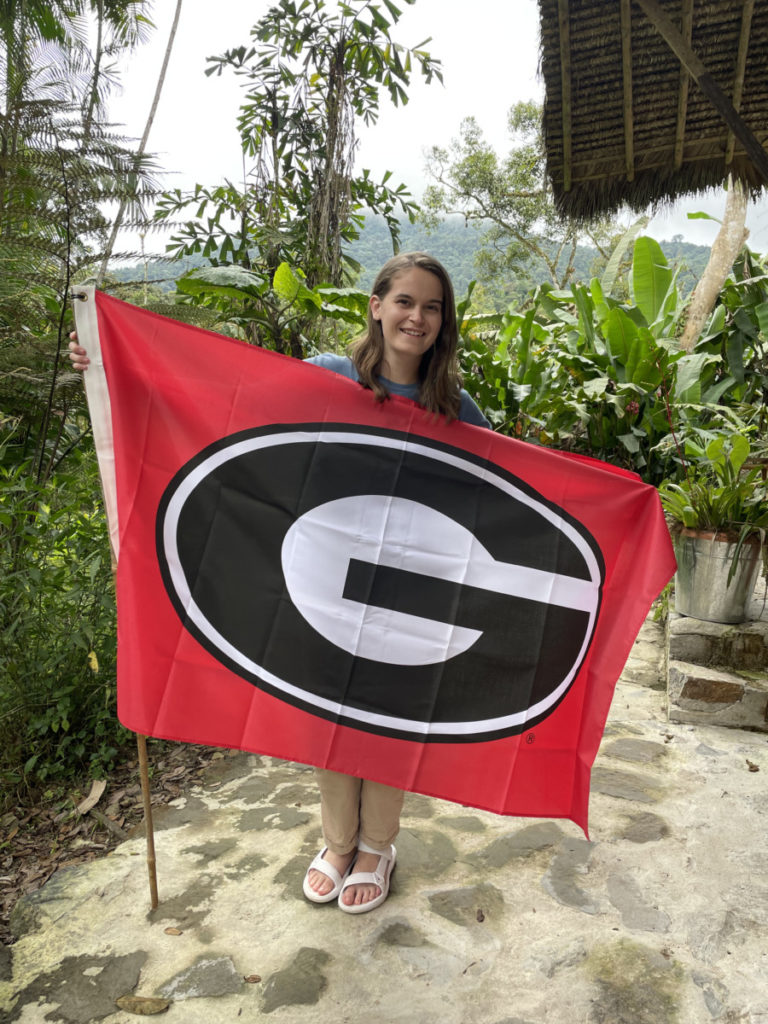 Hello everyone! My name is Taylor Pearson, and I am a rising senior double majoring in Entomology and Applied Biotechnology. I have recently returned from the incredible Study Away opportunity offered by the College of Agricultural and Environmental Sciences (CAES): Tropical Entomology in Ecuador and the Galapagos Islands! I want to use this space as a place to reflect on this experience as well as a space for tips and suggestions to those interested in participating in this course.
As an Entomology undergrad student, I always knew I wanted to participate in this Study Away course. I was excited to learn more about the vast insect diversity present in South America, and this program was a perfect opportunity to do so! I was well prepared for the experience from introductory entomology classes; however, you are not required to be an entomology student or know much about insect/arthropod behavior to enroll in this program! An open mindset and adventurous attitude will get you far in this course!
One week away from our flight:
Before leaving for Ecuador, the group had a few orientation-style classes in Athens so that all of the participating students were prepared in basic skills needed to succeed during this course, such as identifying insects and arthropods and basic collection techniques. When preparing for any trip, it is important to know what you will be doing and what you will need along the way. Our first full week of classes in Athens allowed us to do just that. Personally, I spent the week creating a packing list (a very good one is provided with the course as well!) and touching up on topics in evolutionary biology and insect photography. Important items on my packing list included:
A camera for insect photography and general photos

– A large part of the graded portions of the course include a photographic insect collection. I brought my Nikon, but many students used their cell phones and their photos turned out great!

An option to take underwater photos

– While in the Galapagos, many students wanted to take underwater photos during our snorkeling excursions. I used a waterproof case for my cell phone, but a GoPro or waterproof camera (which can double as your camera for the insect collection!) would work well!

A sturdy 65L hiking bag + 1 carry on duffel bag

– I personally carried all of my items in a large hiking bag as it allowed my hands to be free during travel in the airport and to our lodging locations. I included a carry on so that I could pack extra snacks and have space to bring back souvenirs! While you may not get such large size bags for your trip, I enjoyed having the extra space when returning home.
Clothing + Shoes – Surprisingly, the weather on the equator was much colder and wetter than June in Georgia. I was glad to bring a raincoat for hikes in the cloud forest as there were many pop-up showers during our stay, and I was especially glad to have a warm sweatshirt for cold nights. I would recommend bringing at least two warm sweatshirts that you can alternate throughout the program. For the hiking trips on mainland Ecuador (which occur daily), I preferred wearing loose, dry fit hiking pants (not workout leggings). Since we stayed in a forest setting, biting insects were present. Having long pants to tuck into your long, calf-length socks and rain boots (provided by host lodge) or hiking boots prevented many uncomfortable bites. I also enjoyed wearing dry-fit shirts (tank tops, short and long sleeves), as the humidity made cotton T-shirts harder to wear over long days of outdoor activities. While in the Galapagos, the weather was much warmer and drier, so I often wore shorts and waterproof shoes (Chacos or Tevas work great!) instead. Finally, at least two pairs of bathing suits/swim trunks were great to alternate during our beach trips and snorkeling adventures!

Insect Repellant

Sunscreen (at least SPF 50 or higher!)

– Since we were on the equator and at higher elevations during a large portion of the trip, I was glad to have the extra SPF to prevent sunburns!

Snacks

– Many of the meals are quite filling on this trip; however, an extra protein boost from dried fruits and nuts during long hikes helped me!

Personal medications + First Aid Kit

A way to carry water

– Since there are quite a bit of (fun!) physical activities throughout the entire course, staying hydrated is important! I loved having a hiking hydration pack as it allowed me to stay hands free during hikes but also included extra pocket space for my snacks, sunscreen, and camera tools!
While this list is not exhaustive, these basics were helpful to have!
As the preparation week wrapped up and the group was getting ready to travel, I couldn't help but contain my excitement! This journey was such an incredible opportunity for me, especially as a first-generation college student. I loved being able to relate my major to real-world problems and gain hands-on experience while learning how to help solve them. If you are interested in learning more about the interactions between the environment and animals, evolutionary biology, ecology, or entomology, I highly encourage you to apply for this program!