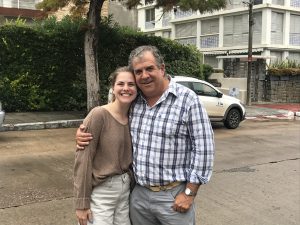 Day 7- our last official day of the trip. On our last day we visited Alto de la Ballena, a Winery Mrs. Paula Pivel and Mr. Alvaro Lorenzo. Mrs. Paula talked to us about how her and her husband started the winery. She also talked about her transition from living in the city of Montivideo and working at a bank to now owning a winery. After she told the story of how their winery got started, we did a tasting of a few of their famous wines. Then, Mrs. Paula took us on a tour where we got to see the grapes and the barrels where the wine was stored for fermenting. The land where the grapes were grown overlooked the ocean and it was such a gorgeous winery.
The second part of our last day was spent with Mr. Alfredo. Mr. Alfredo is a Hereford, Angus, and soybean producer. Mr. Alfredo shared with us the history of his ranch and also took us on a tour. On our tour, he shared his production and concerns with us. His ranch is very unique because it is close to the ocean. Visiting these two places was a wonderful way to end the trip!
Leaving Uruguay was definitely bitter sweet. I am so thankful for all that I was able to learn from Bruno, his colleagues at INIA, and the ranch owners. I was also able to meet and connect with new people that I don't think I would've met at UGA if it wasn't for this trip. Through traveling abroad I was able to make new lifelong friendships and learn more about an industry I am so passionate about. Getting to see the culture and production of agriculture in Uruguay has left me with knowledge I can carry on with me forever. In the picture I attached along with this post is of Bruno and me. Bruno really made the trip as great as it was!