Friday was the first day of our trip. We boarded an over night flight in the late afternoon to London Heathrow Airport. The plane ride was very long and I did not sleep at all. When we landed, it was early Saturday morning in London. After we landed, it was time to experience the underground for the first time. We went and got on the underground train to ride into the city to our hotel. The trains are very quiet, and everybody kept themselves. It reminded me a lot of UGA buses with people minding their own business with headphones in. However, even people who were together were very quiet in their discussions. On UGA buses, people who are together are still very loud compared to people in London.  When we got to the hotel, the room and the beds were a lot smaller. Which we were told about before we went.  After we put our bags down, we went walking around the city and sightseeing. There were a lot of people out on the street but not near as many cars as I expected driving around. I expected there to be a lot more cars and traffic to be a lot busier kind of like New York. There were a lot of people that walk and take the underground instead of driving. The tourist attractions were pretty, and I enjoyed seeing them. We walked all around the city to see Buckingham Palace, Westminster Abbey, London Bridge, and Big Ben just to name a few. After we got done site seeing, that's when the jet lag really hit, and I could really feel the 28 hours without sleep. Then, we went to dinner at a pub right down the road from the hotel. It was nice and it reminded me of a small hometown bar. It was very loud and crowded but it was still a fun atmosphere. It was much louder than what we had experienced earlier in the day walking around London. Then we headed back to the hotel to get some sleep and be ready to head out tomorrow for our train to Dumfries.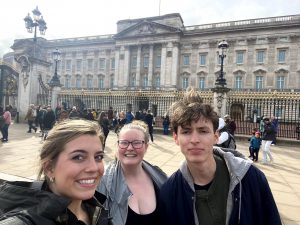 Sunday was our train to Dumfries. The breakfast that they have is not what we would consider a normal breakfast. I still can't get over the beans for breakfast thing. I don't understand it. The train was delayed by a couple of hours due to wire issues on the tracks. It was very stressful having to wait and not knowing how long we were going to be there waiting for the trains to start again. Luckily the trains were up and running before lunch and did not through us off schedule by much. We got seated on the train and began our 3 hour train ride. I think that's when the jet lag really hit us, and we were completely delirious.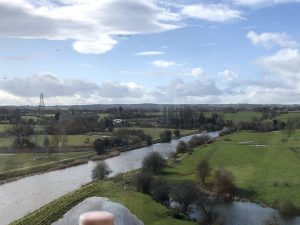 Once we got to Dumfries, we walked to the hotel and it was even smaller than the hotel in London. During this program, we have had the privilege of having education students from the University of Glasgow helping us with our lesson plans.  We went to dinner later that night and met all our Scottish peers. At first, it was very awkward because it was a room full of people I did not know. After about 30 minutes, we all started to warm up and started talking more and more. By the end of the night we were cutting up, laughing, and talking about all the differences between Georgia and Scotland. The thing that made us start talking the most is the differences between gravy and how they don't have sawmill gravy and only brown gravy. After that, all of us loaded up in their cars and went to McDonald's. This is something me and one of the Scottish students, Natalie, bonded over a lot because we're both very picky eaters and went to McDonald's afterwards to get chicken nuggets. I rode with Denise, another Scottish student, and it was interesting driving on the opposite side of the road for the first time. It was very scary because it looked like the cars were coming at us; even more so because it was at night. It was fun though and it helped all of us bond more. These experiences made me want to explore and get to know these people even more and hopefully make lasting relationships and memories.