While preparing to study abroad for a full academic year, I was pretty confident that about 10 months would be the perfect amount of time to spend in Spain. I imagined that once the school year was over I would be ready to come back home to work a summer job or internship before starting my final year at UGA. However, relatively early into my second semester at UPNA, I decided that I wasn't nearly ready for the experience to end. I had met so many amazing people, gone on incredible adventures in beautiful new places, and experienced so much joy that I could not bear to go home without making the most of my time in Europe. Besides, I was living in Pamplona, Spain where the famous San Fermin Festival, or Running of the Bulls, takes place every July and it would be a shame to miss an event of such cultural significance to the place I had come to call home. So I changed my flight home to return at the end of summer and never looked back.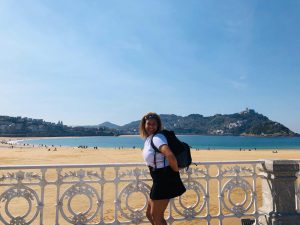 Extending my trip gave me the opportunity to travel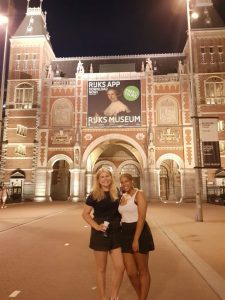 Europe freely now that classes had ended. I wandered from city to city, staying as long as I liked or until I found a cheap flight to a new destination. I really pushed myself to go to different events while traveling and speaking to people along the way to learn about their lifestyle and traditions and I ended up with some great friends. I even had the opportunity to visit a friend from the exchange program at UPNA in her own country, the Netherlands.
I returned back to Pamplona just before San Fermin with a whole new appreciation for the city. I was grateful that I had studied not only in a small university, but also in a smaller, less touristy city that felt very homey and authentic. In addition, I was in the north of Spain which is not like the typical Spain people first think of with its amazing weather, Mediterranean beaches, or flamenco dancers, but northern Spain is incredibly beautiful with its mountains, abundance of parks, and unique Basque culture.
The festival itself was the best end to my year. The first day, July 6th, begins with the opening ceremony or chupinazo at noon. My friends and I started the day with the typical gathering for almuerzo, which we did as a picnic in the main ciudadella park and then made our way over to the Plaza del Castillo to watch the chupinazo. The city had already transformed as I watched more people than I had ever seen in Pamplona, all dressed in their white and red attire, pack into the city center. After the rockets fired to signal the beginning of the festivities, it was a chaotic party filled with food, drinks, music, dance, and of course, bulls all the way until the ending ceremony eight days later. It was incredible to actually take part in the festivities that I learned so much about in the Spanish culture class I had taken the first semester. Being able to experience the festival with my new friends from around the world that held Pamplona just as close to their hearts after their exchange year/semester was so rewarding with memories that I will never forget.