I have dreamed of going to the United Kingdom all of my life. When I was about twelve, I redecorated my room at home in UK decor. I had framed pictures of Big Ben and the Tower Bridge. I had a Union Jack flag rug, a red telephone booth bank, and numerous other items filled my room from floor to ceiling. I even drive a red MINI Cooper Countryman.  So, when I was lucky enough to be selected to go on the The Grand Tour, I was ecstatic that I would finally get to see the UK in person and mark off some boxes on my bucket list.
Arriving in the UK on day ten of this trip did not disappoint. We spent 2 days in London and one was considered a free day of exploring. I can honestly say it was the most fun day of my Maymester. I wandered the streets of London visiting Buckingham Palace, Tower Bridge, Westminster Abbey, Abbey Road (Beatles), the London Eye and so much more. Unfortunately, Big Ben was under construction and covered in scaffolding, but you could still see the clock face from one side. Plus, the Changing of the Guard at Buckingham Palace was cancelled that day due to a parade close by.  Regardless, it was a dream come true, but I feel certain I will have to go back as my list has a few empty boxes beside London still.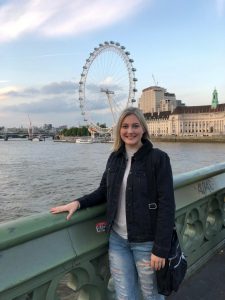 For another check on my list, I have always wanted to see where Harry Potter was written and filmed. We did not get to see many locations, but I did get to visit Kings Cross Station and Millennium Bridge in London. Once in Edinburgh, not only did I get to see the great castle, but I got to drink coffee in The Elephant House, a gourmet coffee house where J.K. Rowling spent most of her time writing the Harry Potter series. I wish I would have been able to take the Harry Potter Studio Tour in London, but time did not allow. This is just another reason for me to go back.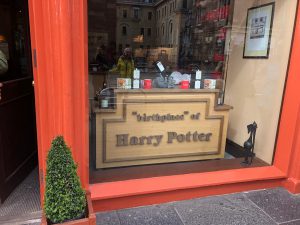 I know this was a trip of a lifetime for me, but after visiting for only a few days, I am trying to figure out a way to go back as soon as possible. My list now even has new additions!