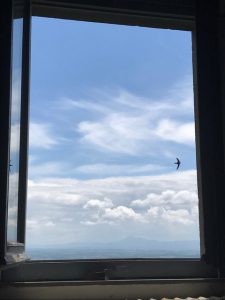 The city of Cortona is situated on a mountain with our school buildings located near the top. It makes for quite the hike back up but fortunately there's a beautiful stopping point overlooking the valley where everyone takes a break. The view from our room in the Kehoe Center also made the climb worthwhile as you could open the shutters in the morning to see the fog over the lake, the clouds over the mountains, and the birds zooming across the sky.
Image 1: View of the valley from the overlook.
Image 2: View of Cortona from one of the lower streets.
Image 3: View from the window of our bedroom (Taken from the top bunk) with a bird, possibly a Swift.