On the plane ride back home, I had a lot of mixed emotions. I honestly wish I could stay a little longer and explore more of the country. I was definitely not ready to get back into the grind of school because I know the end of the semester is quickly approaching. Though, I was ready to return home in order to see my family – especially my dog – and my friends so that I can share stories about my trip to Uruguay. From riding horses in the sunset to discovering sea lions on the dock at night to trying lamb for the first time, there were so many unforgettable moments filled with joy and laughter. I not only learned about beef, sheep, and cattle in Uruguay, but I also learned a lot about myself. Stepping outside of my comfort zone really enabled me to grow during this trip and gain a lot of insight that I can use from the future.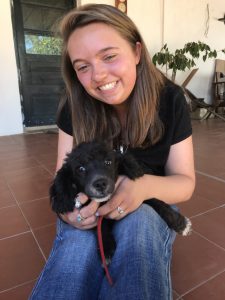 I definitely will miss Bruno who was our tour guide, translator, and amigo. I remember asking him the first day what is his favorite part about the trip. Instead of mentioning a specific destination or excursion, he just happily told me that the best part is being with us – the students and really getting to know us. I could just tell how genuine he was when he told me that. From the beginning of the trip when we left the airport, he immediately greeted us and already had our names memorized. Throughout the trip, he made sure all of us felt welcomed and comfortable. He not only shared beers wisdom with us but lots of laughs too. He enabled us to really understand the culture of Uruguay.
I remember one night, I was sitting next to Bruno and two other girls from the trip discussing Uruguayan culture.  Sometime that really stuck with me was how different their education system was in Uruguay. The students in college live at home with their families until they have a job and can afford to live by themselves. College students in Uruguay do not have the same social aspect and same freedoms that students back home in Athens have.  Plus, they do not have the benefit of exploring their interests and possible career choices. Students in Uruguay declare what would be considered their "major" or the career path that they plan to take in college during their last two years of high school. Though, it is great if you find your passion early then you can just dive into it quickly. So sorry not sorry to my friends and family at home, but I am high key considering – if Bruno lets me – moving in and just starting vet school in Uruguay right now.