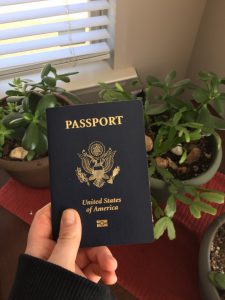 Looking at my passport and realizing that in just two days I'll be having it examined as I fly out of the United States and toward Uruguay is such an exciting feeling! On Friday, I will be embarking on my chosen study abroad program, the Economics of Grass-fed Beef Production in Uruguay. This trip presents and interesting and thrilling opportunity for me for multiple reasons. First of all, as an animal science major and as someone who grew up raising grain-fed beef cattle, I am very interested to observe the differences in beef cattle husbandry between America and Uruguay. Furthermore, as an undergraduate researcher in Dr. Stelzleni's lab, I am currently helping on a project concerning the effects—concerning both weight gain and carcass characteristics—of supplementing forage-finished beef cattle. I am therefore very invested in the learning portion of this study abroad—I am intrigued to see their forage-finishing beef operations and how they feed and manage their cattle to maximize both growth and carcass quality.
I'm also just simply excited to see Uruguay as a country! I have only every been out of the country once, to England, Ireland, and Scotland when I was in high school, and while that was an incredible trip, much of the culture in Western Europe was like the culture in the United States. It's an exhilarating experience to get to travel to a continent to which I have never been and to immerse myself in a completely foreign culture. I don't speak a lick of Spanish, but I've downloaded Google Translate on my phone in preparation!
I honestly have very little anxieties concerning my impending departure; although I do not know anyone going on this trip, I feel certain that I will make new friends: in the couple of meetings which we have had, everyone has been welcoming and friendly. And despite the fact that I do have a lot to pack, and I have to be thorough when packing—it's not like I can run home and grab what I forgot once I arrive in Uruguay—I have made several lists and gone through them multiple times to ensure that I am not forgetting any of the essentials. I also have talked to friends who have studied abroad before and listened to their suggestions on pre-departure packing and planning. They have been an invaluable resource, helping me arrange my departure with my credit and debit card companies as well as helping me select the correct adapters and converters for overseas outlets.
Regardless of the packing frenzy in which I am currently enveloped or the somewhat-anxious hope that I will indeed make friends on this trip, as I set sail (or flight) on this upcoming adventure, I am overwhelmingly grateful for the opportunity for which the College of Agricultural and Environmental Sciences has provided. Without their offering of this opportunity and their support, I would have nothing, when looking towards my next week of spring break, to smile about.