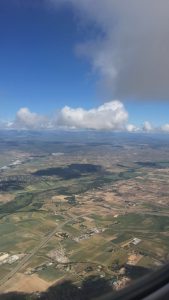 Some may think that I am a strategic planner because I have created a four year plan for my undergraduate college career. When I created this plan, I failed to include any study abroad program on my plan. The opportunity came before me at a MANNRS Club meeting, and that changed my life. I never have been out of the country before! Clicking the commit button made a streak of jubilation spread throughout my body. I never thought I would become more excited for something. I am now able to go to France and study her food, culture, and environment.
It seemed like my mom was more excited than I was about France. She was asking me about it everyday. When is your next meeting? Have you talked to any of the other students in the program? Have you researched where you are staying? I was asked a different question every day. Together, we began to make frequent stops to the store when I came home to visit. We bought typical things a first time study abroad student would buy: a neck pillow, a passport body carrier, a backpack full of snacks, a refillable water bottle, and pre-printed maps.
The day finally came for me to go to the airport. During the entire hour and thirty minutes to the airport, I had butterflies in my stomach. I could barely stand still in line. It was not coming from excitement; I was finally nervous. Why now? My mind was finally able to process that I was about to leave my friends and family to explore another country. When I had to wave goodbye, I could feel my nervousness drop to the bottom of my stomach. It was finally time. I went through the security line and found my gate to join the others who had the same flight as me. I grabbed a pretzel from Auntie Annie's and I sat down to wait. I had to board in ten minutes, and ten minutes felt like ten hours. The flight attendant called my group number; I boarded the plane and found my seat. The captain greeted us, and we watched the safety video. As soon as the plane started, it felt like the vibration tickled my spine. My favorite and the most pristine moment was when the plane began to ascend. I could feel all of the nervous feelings being released and left on the ground. Every plane we got on, I left a piece of my nervous feelings behind. On the last flight to Toulouse, the view out the window helped me see the world from a different perspective. My view was beautiful, and there was so much out there for me to see.