The small country of Uruguay was beautiful and full of agriculture. We began our week just traveling and touring the capital city, Movtivedo. Montivedo is where most of the people in the country live.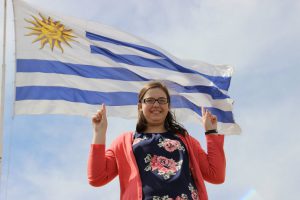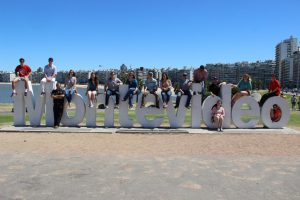 After getting accustomed to the time change and the new location, it was time to visit some farms. The first day we traveled to the dairy farms. Both milking parlors were a lot like the US milking parlors. The fact that they grass feed was very interesting, as we were able to walk out to where the cows were and see how they rotate their crops. Throughout the week, we traveled to the INIA Research centers at each location.  It was interesting to hear how the INIA organization works and to see the research that the company is doing at the request of the farmers.
One of my favorite visits was the meat processing plant. Solís gave us the opportunity to walk through the plant from start to finish. Having the chance to walk on the kill floor and watch every step was very enlightening and a learning experience. After walking through, we had the chance to sit down and ask questions. This is where we learned a lot about the beef markets and how they are able to export the majority of their beef.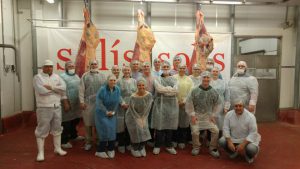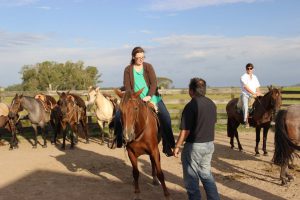 While Solís was definitely at the top of my list, the best day of the week was Day 4. To begin the day, we went to a sheep farm where they were raising around 3000 sheep. They were using Artificial Insemination to breed all the sheep, which is not a common practice in the States. The farmer at this farm was in his 80s and still very active in the day to day jobs of the farms. His farm was beautiful and we had the opportunity to learn so much about the sheep industry in Uruguay. Our next stop was at José's farm. He was raising Red Angus cattle, sheep and horses. When we arrived, they had just slaughtered a sheep for us to eat that night. We had the chance to see them cut the meat that we would eat that night. After watching that, he gave us the opportunity to ride the horses that he had raised and herd cattle. That was AMAZING! After riding the horses, we had to kill time for dinner to finish cooking. We decided to play a game of soccer. The girls, Bruno, José, and the gaucho played against the boys. The day was perfect and definitely one of the best days of my life!