Just in case you were wondering Uruguay is a beautiful place! Seriously, if you've never looked into Uruguay, I encourage you to use whatever device you have in your hands right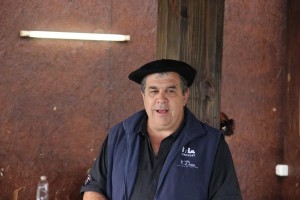 now and look at more pictures. But something that you may not be able to find in the thousands of pictures of Uruguay on Google, is this amazing guy in the picture to the left. His name is Bruno and he truly makes the Uruguay study abroad program, he is the HEART of this program! As an Agricultural and Applied Economics major, my knowledge of Animal Science was very limited. But after spending 10 days with Bruno, I can say without a doubt that he helped me expand my knowledge of sustainable beef, grain production and marketing systems! He explained everything on a level that everyone could understand, but he also showed us a true glimpse of the culture and values that the people of Uruguay hold. Not only that, but he served as the group's official translator, which, trust me, as a Spanish major also, it is not an easy task."Gracias" is something that the entire group was able to say with ease before the end of the trip, but by no means is this enough to thank Bruno! I will be forever grateful to him.

Gracias por todos mi amigo!