Salut!
France has been nothing short of amazing. I have learned so much, from the history, language, and customs, to food production and sustainable approaches to agriculture in just 3 short weeks. I am so excited to apply the knowledge that I have gained, back home. Due to our extremely busy schedule, I am just now finding the time to write about my experiences abroad. I took many pictures to help document my journey from beginning to end.
Every lecture and trip has been very beneficial. We visited many different establishments and I have enjoyed being exposed to the different fields of agriculture in France. My favorite part of the program was learning about wine, one of France's staple commodities. I liked the wine production lecture and lab the most because it was hands on. I enjoyed altering the different properties of the wine and creating multiple variations to view, smell, and taste during a ranking test. It amazed me how the smallest details matter, including the quality of the cork and the way the wine is stored. The French take their wine very seriously.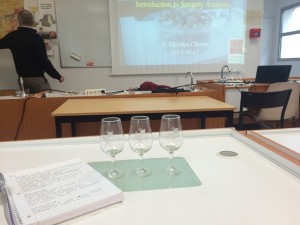 I spent my first weekend resting and catching up on the six hours of sleep I had lost. Jetlag was serious. The second weekend, I decided to explore the city and travel. Saturday, I got to discover much more of Toulouse on bike. In between site-seeing we stopped for sushi, pastries and gelato, rode through the park along the Garrone River, stopped to check out the festival at the Capitol, admired the Mairie de Toulouse public garden, and got a little shopping done at Galleries Lafayette. Sunday, I traveled to the Mediterranean Coast in Collioure. Beautiful is an understatement and pictures don't do it justice. The ride took about 3 hours by train. The weather was perfect and the water was so clear. A friend and I explored the Château Royal de Collioure, had prawns for lunch (the biggest shrimp I've ever eaten in my life), got in the water for a bit, and bought some goodies from the local shops. It was a wonderful weekend.
France was great, but there were times I missed America. Like having my groceries bagged at no extra charge. I quickly realized that I needed to buy my own shopping bag and bring it to the store whenever I needed groceries. It was inconvenient at first, but it is definitely environmentally friendly. The restrooms were also confusing. Most times I was only able to distinguish between the male and female stalls by the presence/absence of urinals. There was also a time I had to pay to use the restroom. And another time I had difficulty finding a restroom. People thought I was asking for bathroom supplies rather than an actual toilet. Buying and ordering food was also difficult. Many times I did not know what I was ordering and was brought food that I could not identify. But even though I ran into these small problems, I tried not to complain. Being in France was so surreal and I am extremely grateful for the opportunity.
I think being fluent in French would have made this experience even better. Not being able to communicate with people was frustrating. Thankfully, many people spoke enough English to have a conversation. But I would have loved to have been able to speak their native language. After all, I did travel to their country wanting to immerse myself in their culture. I have definitely enjoyed my time abroad. Everyone was very welcoming. I appreciate the hosts taking the time out of their busy schedules to allow us to tour their businesses and homes. They were all very eager to tell us about their careers and were ready and willing to answer any questions we may have had.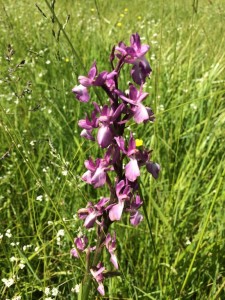 À tout à l'heure, France!
Courtney