If you are anything like me when packing for a trip then you like to have options… shoes, shirts, dresses, accessories the absolute works! But when I was accepted to Scotland: Youth Engagement in Agriculture I found out I would have to carry all of my clothes in a backpack and my mind instantly went into a spiral. How was I supposed to have options, look cute, and be able to fit all of this into one backpack? Well, let me tell you I got real creative on this trip to be able to have all my options and still be able to fit it all into one bag and I'm here to tell you how.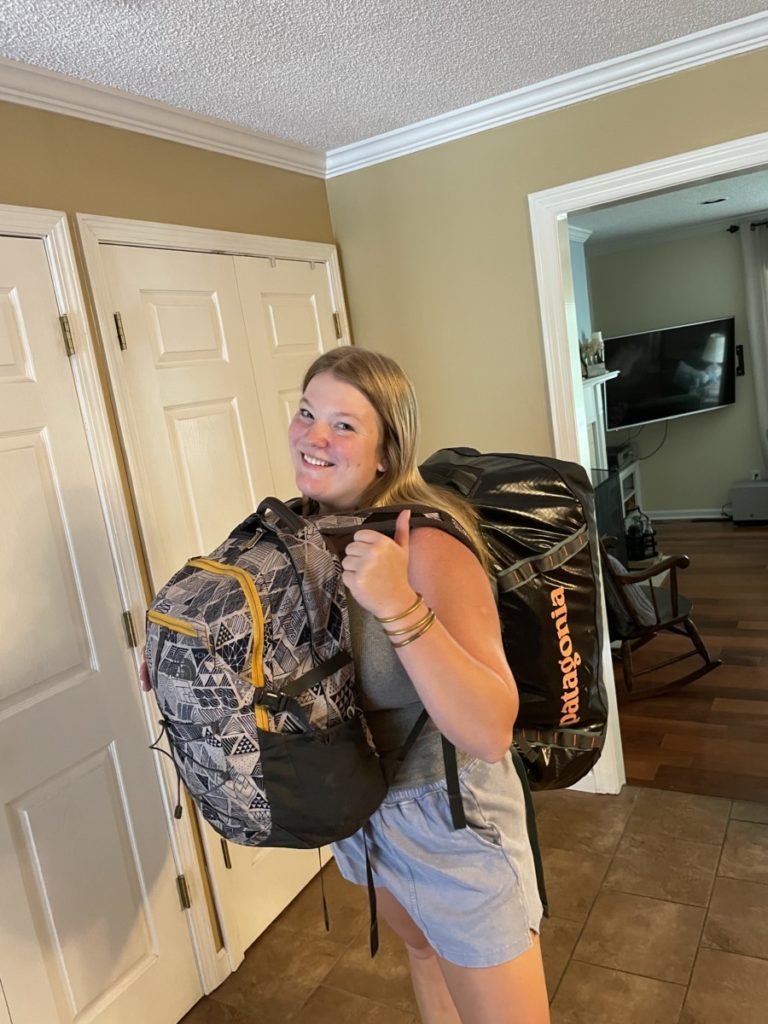 Since I was little I have always packed probably three outfits for each day of a trip along with shoes to last a lifetime (and probably even more) but with the limit being one bag and a total of 14 days abroad the numbers were not adding up to pack like I normally do. The first thing I did was research capsule wardrobes and "staple" pieces that could be used in multiple outfits. After compiling a list of all that was needed I began placing together outfits where the pieces could be used more than once to cut back on packing. Once all of my pieces were picked out I began rolling the individual pieces up to ensure that no space was wasted in my bag. A great tip for packing like this is space saver bags because you can place the rolled-up clothes in them and squish them down even more (these bags also come in handy for dirty clothes later in the trip). Rolling your clothes combined with space saver bags allows for you to bring lots of clothes and take up little space. The most important key to packing like this though is Febreze! If you don't bring any I recommend buying some the first day you are there to refresh your clothes (and sometimes your hotel room). My roommate and I went through almost a whole bottle of Febreze on the trip and it was my #1 most used item. Shoes on my trip were the easiest way I cut down, I packed one nice pair of white sneakers and a pair of tennis shoes and that was it (shocking I know). By doing this though I had so much room for other stuff and honestly I didn't feel like I needed any other options during the trip. Lastly, packing toiletries did take up a good bit of room but I recommend streamlining your products and packing them in a carry-on or different bag so that they are always with you in case of emergencies. This trip was a great experience to learn how to cut down on packing and really go through what I had and decipher what I truly need.
Learn from my mistakes though; leave room for souvenirs! I ended up having to buy an extra bag for souvenirs and by the end of the trip, it became such a hassle to carry around. Make sure you also leave the thick and heavy clothes at home unless it is necessary for where you are going! Big jackets and heavy shoes are easy ways to lose out on quality space. I brought a thick sweater with me and never wore it but lugged it around everywhere. Finally, as much as you want to look cute and have the best outfits what really matters is the functionality of the pieces you bring. I took so many fewer pictures than what I expected and I truly wish I would have brought more comfy clothes so that I was worried more about what we were doing and less about my outfit.