Having those days alone gave me a lot of time to think, but it also made me very happy to rejoin everyone else in Edinburgh when I was finally able to. It was almost surreal, being dragged back into the adventure after the sudden calm, and organizing my return journey was a good experience. Arriving at the city before the rest of the group, I located our hotel and checked my luggage in order to shop on my own for a few hours before they joined me. There are many quaint shops in Edinburgh, and you can find essentially whatever you want, such as the Cashmere scarf I grabbed for winters back home. Rejoining everyone was a joy as well, and we got right back into the trip together.
The morning after our reunion we toured Edinburgh castle, a place with much history and importance to Scotland, as it was the home of their kings and queens for many years. The view from above the castle showed the impressive city below us, and made we regret our short time there. I feel as though we could have spent days wandering the city, enjoying its shops, partaking in their food, and exploring their monuments. Alas, we had to move on, there were only a few days left and they were to be spent back in England.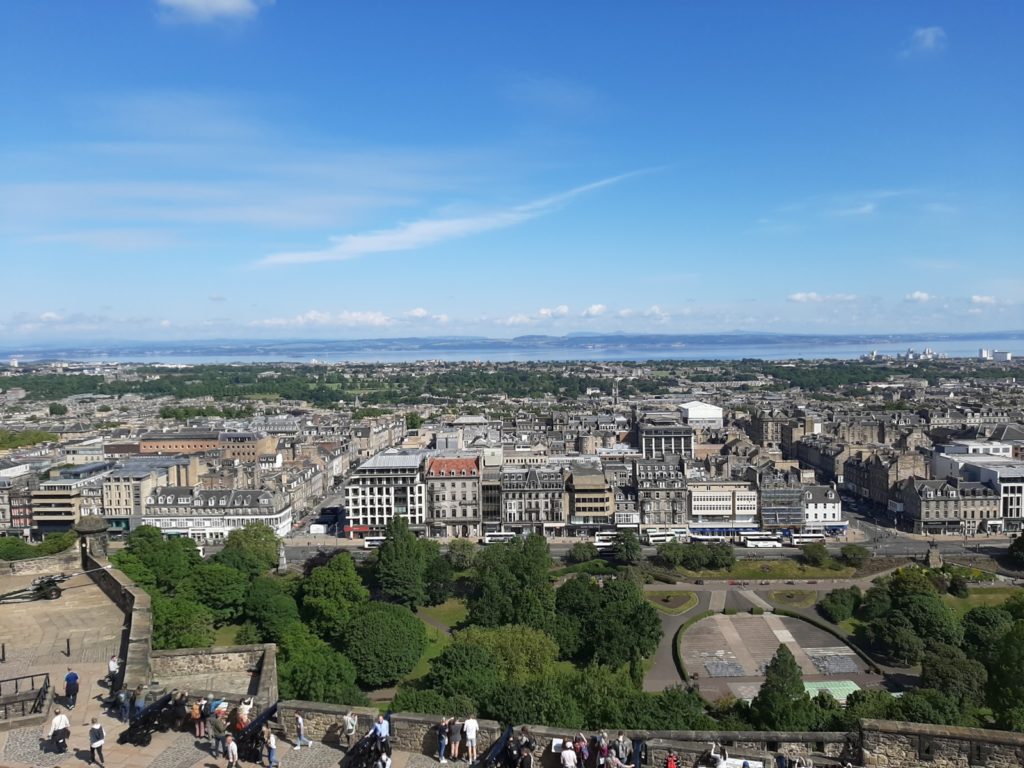 The train ride back to London was uneventful, and I finished my book on our travels. The countryside was still beautiful, but I did not have a window seat and didn't appreciate it as much. Returning to London, we dragged our bags to the final hotel, ate at a local pub, and rested for the evening.
So much happened in the next two days, it's hard to describe it all. The day after we returned to London, we toured Stonehenge and Windsor. No pictures are allowed in Windsor, but the building is filled with grandeur and luxury above anything I have ever seen before. The royal collection is displayed there, making the castle well worth visiting for any fans of Renaissance art, or of odd art pieces from around the world. Stonehenge itself was an impressive monument, though we did not spend nearly as much time there as I'd have liked. Interestingly, the stones themselves held nests of Jackdaws and Rooks, species of Corvid native to England. I got to handfeed these birds, which was a very special moment to me as I am a lover of birds.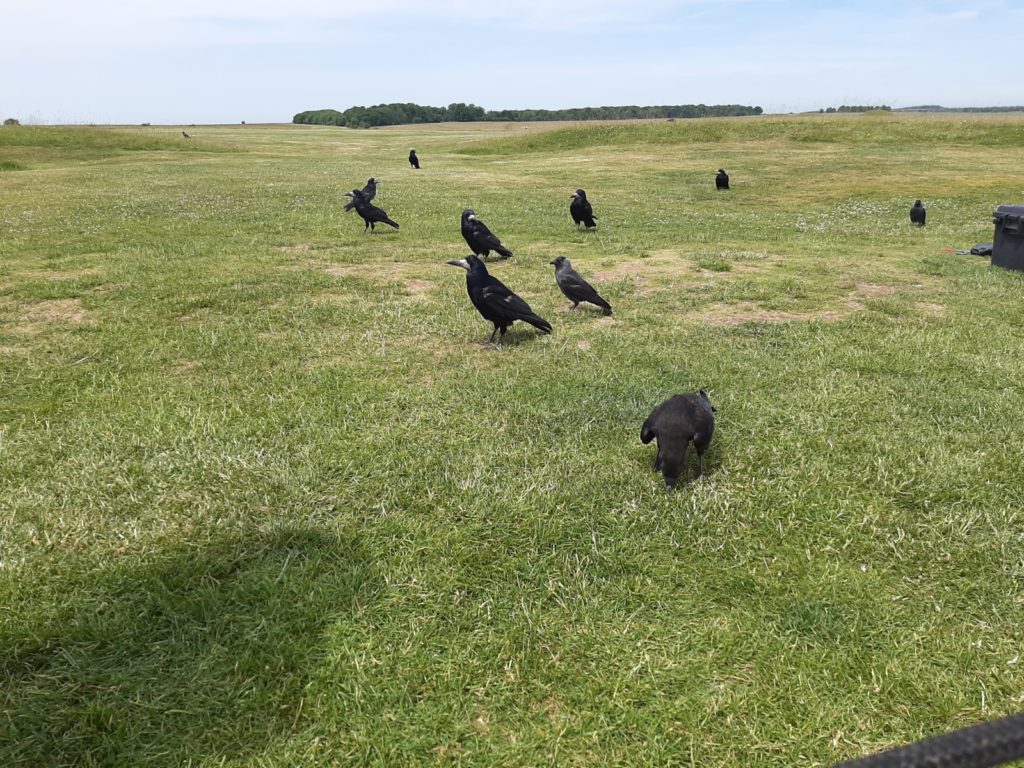 I would share my own images of the ancient monument, but there are far better pictures and it's not something that should be reduced to pixels on a screen. It deserves more reverence than that. I'd advise seeing it at some point, especially if the birds are a bonus to you, as they caught me off guard and completely delighted me.
The next day we had a free day, so the night before me and two of the friends I was planning on traveling with decided to test our navigations skills together. Seeing London at night was a brand new experience, or at least soaking in the nightlife. The subways are barren at 11 PM, and the streets had cleared out. Despite this, we found interesting sights and people, and felt prepared for our own wanderings the next day. Being able to travel on our own was actually a big boon to me. Only seeing things in a large group had always limited our options and made everyplace feel more crowded than it was. The change from complete isolation to being crowded was jarring, and being with a group of four for a single day was a delightful change of pace. Our list of sights was Abbey Road, Buckingham Palace (at which we saw the changing of the guard!), and the British Museum. The Museum was my suggestion, and seeing it was a treat. Whenever you visit at least one exhibit is closed for restoration, so it's worth stopping by every single time. This time I was able to visit the Parthenon tiles, which greatly interested me.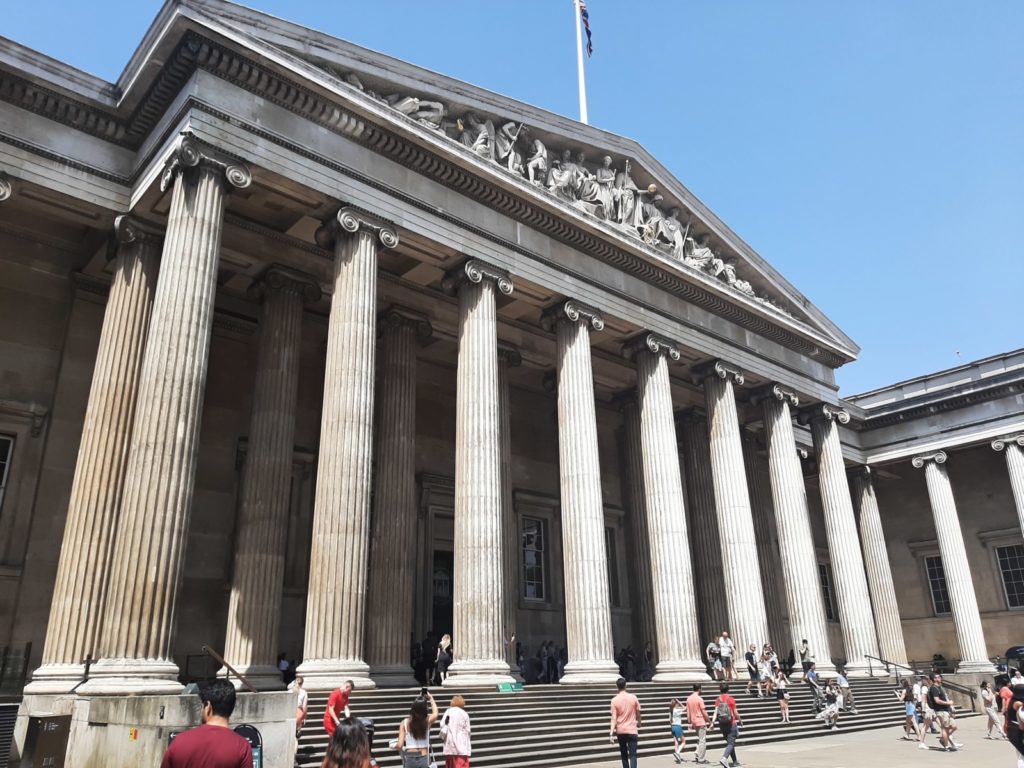 It occurs to me how much this blog feels like a review of the sights I've seen now. But these experiences aren't the same as tourism. We got to teach, travel, and eat together for two weeks (though I got less), and I feel as though I've made lasting friends and strengthened my bonds with older ones. This country is not just another place on the bucket list either, it's a place. There are people there with hopes, dreams, and their own list of places to visit. Why travel? You travel so you can learn. Learn about yourself, and about the future.
I want to finish by saying our final meal and evening as a group. I'm sure I'll meet many of my fellow students from here again, in fact I'd be remise if I didn't. Our final dinner was at a Brazilian Steak House. I had never been to one before, so I was very surprised when they brought out large chunks of meat and cut portions off for me. The food was excellent, as one always hopes for when they travel. The experience afterwards, however, was truly special. It had been a hot day, and the underground was no better off for it. We were wearing nicer clothes, and the ride from dinner to Piccadilly Circus was hard on our feet. It was crowded, we shoved through people onto an overfull subway train. All of this while running and trying to stay together. We had overstayed our welcome at dinner, and were in danger of missing what was next. We ultimately arrived late, but still got into our destination. The theatre (as is their manner of spelling). We saw the show Les Misérables in a hot theatre. But the performance was magnificent. It quickly became a highlight, as the singing, the acting, the sets, and everything was of the utmost quality. London shows met and exceeded my high expectations.
After this, we were tired. We rested. And the next day, we parted ways. I was on a different plane, and once more on my own… giving me a lot of time to think. I cannot recommend traveling enough. While cost is always a concern, there are people willing to help you, and while health may be a concern, and you may worry about missing days with your peers from injury or sickness… don't. Don't worry. It may or may not happen, but even if it does, you still get to see wonderful things. The UK feels very similar to the US in many ways, but it's different in the scale of its age. The teaching of children gave me an appreciation, and I returned home feeling matured and humbled. I would repeat the experience in a heartbeat, Covid and all. Enjoy your summer, and I hope you have your own experiences in the future.