The first full day we were in Dumfries, we were supposed to go to the primary school and attend their assembly. We were going to experience that and then get a little tour of the school and figure out the plan for everyone teaching a lesson. Because of the Corona Virus and all the unknown factors of that, the school ended up having to fill out more paperwork and get it submitted and approved before we could go. They got the paperwork over the weekend though, so we weren't able to go the first day. Dr. Rubenstein and Dr. Peake quickly figured out a new plan for our day and got everything handled quickly.
We ended up going to a castle and an agricultural college. We went to Caerlaverock Castle. The castle once guarded an important gateway into the kingdom according to one of the signs. Barony college is the agricultural college. They gave us a look into their dairy and sheep production. The dairy was very similar to ours in America. The regulations are slightly different, but not by much. They have three hundred and fifty-one acres, year-round calving, six hundred and fifty sheep, and they receive about forty-three inches of rain a year. The tuition in Scotland is free, and the students do not have to pay for textbooks. The school was really nice, and everyone there was very friendly and welcoming. We also went to a farm style restaurant. I was not brave enough to order the special which was a haggis hoagie. I did, however, try a bite of someone else's. It was awful and extremely salty. I'm glad I can say I tried it, but I will probab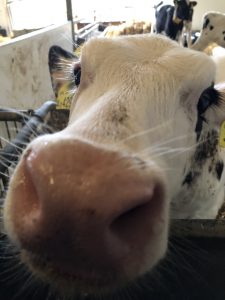 ly never try it again.
This trip consisted of a ton of firsts for me, but I loved every second of it. If you ever get the chance to go on a study abroad trip, take that chance. You will not regret it.