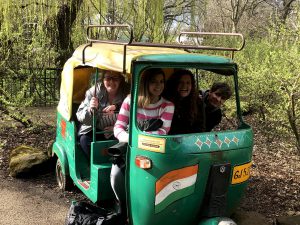 Friday- we left Dumfries on a very early train this morning. It was a bit too early for my liking. We got to London and we split up into groups based on where we wanted to go. The group I was in decided that we were going to go to the zoo, but first you're going to go to a market to see about lunch and shopping. We went to Harrods and it was a lot fancier than what I was expecting. After that, we decided to go to the zoo. It took two trains and a double decker bus ride to get there, but it was worth it. We had such a good time running around seeing all the animals and attractions together. I even got to see sloths which are my favorite animal in the world. By the time we got back to dinner, we were pros at the underground train. I think we took somewhere between six and seven trains to only go to two places. We were masters by the end of the day. After that, we went to see Hamilton. I've always been such a huge fan of musicals and to be able to see one on stage with professional actors and dancers was incredible.
It was a very bittersweet day because I had such a good time at the zoo and at the musical, but I was also kind of sad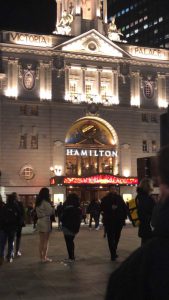 about leaving. I've had such an amazing time in the UK and with the people that I'm on the trip with. It was kind of hard to have to leave the constant activity and then go back to total isolation in quarantine at home. However, I have made lasting relationships and memories on this trip that I will always be grateful for that. I knew I've always wanted to travel but this trip has further emphasized that part of my life. I want to travel more. I want to come back to the UK and see the people that I've met on this trip.