Nestled in a valley approximately a mile from the coast of southern Spain sits a produce farm where you can find the best fruit you will ever eat.
As we traveled up the winding road t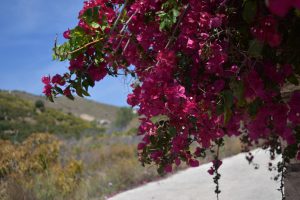 o the farm, my study abroad group talked about our excitement to try the fresh mango, bananas and avocados. Spanish natives had talked highly of the quality of these products since we arrived, so we had high expectations. Although, they had not told us about one fruit that showed to be the true treasure—chirimoya.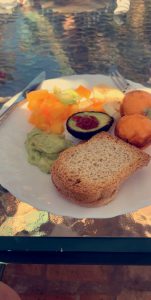 After we toured the farm, they took us to a reception area where we would have the fruit tasting. We were brought a plate piled with banana slices, mango, nespero, avocado and toast. We tried the fruit very methodically, ensuring we tasted the freshness of each and how each piece complimented each other. The Spanish take the natural taste of food very seriously. In fact, we learned from other trips in Spain of the research being conducted to enhance the taste of food. My host family also spoke of how food used to taste much better. For this reason, the fruit tasting was a process so that we could take out time in tasting the natural flavors of the fruit. After we finished our plates, they brought out large, green fruit that we had not seen before. After the fruit was opened, the inside revealed a white, creamy flesh. They revealed that this fruit is called "chirimoya" and was a delicacy of Spain—sort of like a dessert fruit. The fruit is eaten with a spoon and must be eaten slow because of how rich the fruit is. I have never tasted anything like it! It had to be my favorite thing I tasted in Spain, and wish we had chirimoya in the U.S.