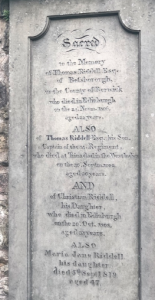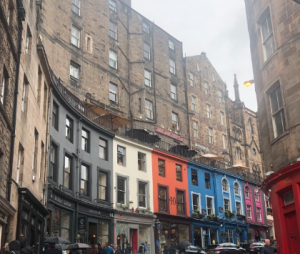 A soon as I knew I was going on the Arts and Gardens Tour of Europe, I knew I had to take one of my free days to explore Edinburgh, Scotland to see all of the Harry Potter landmarks, especially after being in London and seeing local spots used for filming.
I started my day on a basic local tour of the city recommended by our professor, guided by a free company which hit on all historical highlights, including the reign of Mary Queen of Scots and dark secrets of the town. All being history majors at the local college, the guides all worked without pay, relying on tips for pay. The tour was one of the best that I had been on, providing stories and local legends rather than just listing facts.
As we walked about the city, our guide also pointed out spots that inspired JK Rowling in writing the Harry Potter series.
Our guide left us in the oldest cemetery in Edinburgh. Many of the tombs held the names which also appear in the books, including the grave of Tom Riddle and McGonagall. After the tour, we ate at the popular Elephant Cafe, where most of Harry Potter was written, the walls of which are now littered with news clippings of Rowling's success and her climb to fame. Just walking about the town, many stores bear the claim that Rowling visited or that their front inspired a particular thought in the bestselling books. Tourists walked about the streets and locals adored wands, adding to the magic of the town. Being where the idea came to her, it was clear how the books could come to Rowling in this historic Scottish city.
Walking in the footsteps of the famous author as truly inspirational, and fulfilled a childhood dream that I didn't know. While no filming occurred in Edinburgh, to sit where the idea for Harry Potter came to fruition offered a unique experience to a lifelong fan.