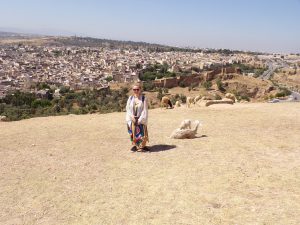 I am just shy of hitting the halfway point of my Moroccan internship! The past few weeks have flown by… I am not sure if that is good or bad! I am teaching English in a medina that is centered in Rabat. I have around 15 students and they have been a blast so far! Our language barrier is a bit challenging, but we make it through! A few of the students are pretty advanced in their English development and are able to help me translate!
I have a teaching partner for the summer; that has proven to be the most difficult. We come from very different backgrounds and she has no experience in youth development or teaching. I am very passionate about education and working with youth. I have struggled "meshing" with someone who does not necessarily enjoy the environment or working with the kids. It has pushed me to be more creative in my teaching methods and lesson planning, though. I'm looking forward to working with my students and watching them grow over the next couple months!
I have had the opportunity to travel to 3 different cities in Morocco: Tanger, Fes, and Chefchaouen. I'm also headed to the Sahara this weekend! The most popular ways of travel are car and train. I rode a train for the first time a few weeks ago and it was so fun! When we travel we have the chance to visit with locals about places we should go. If I could have done one thing differently before departing for my trip, I would have been more prepared when it comes to speaking Arabic. I am enrolled in Arabic classes while I'm here, but don't really know enough to communicate outside of class.
I am sharing a riad with 5 other American girls. That makes culture shock a little easier since we're all going through it together! One my first day, I realized that we didn't have hot water in the shower. I kind of panicked. I took cold showers for the next few days until we realized we just had to ask our host family to turn on the hot water!! They have been so welcoming and cook great meals! I ate a camel burger about a week ago…. not my favorite but something to check off my bucket list!
If I could offer any advice to future traveling students.. it would be to have your expectations in check prior to arriving in your "new home." My internship hasn't exactly played out like I was anticipating but I am still making the best of it! Not everything is going to go your way, you're going to have to adapt, and that is what makes this adventure so life-changing. I have about 7 weeks left in Morocco and I'm looking forward to more curveballs that are going to be thrown my way!