Being from a farming background, I was most excited about our cacao farm visits throughout the trip. On the first day, we visited a small cacao farmer, who made this beautiful arrangement for us out of cacao pods and cacao tree leaves.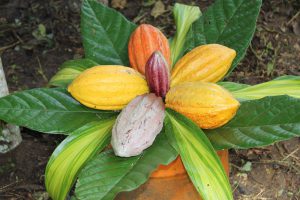 He showed us around his farm, and showed us a neighboring pineapple farm, pictured below. The views were incredible, as well as his knowledge on farming. He allowed us to try a hot chocolate style drink he makes himself, fresh coconuts, fresh pineapple, and chocolate bars he made himself. While his processes were primitive compared to the places we visited later, he was so welcoming and really got the trip off to a great start for us!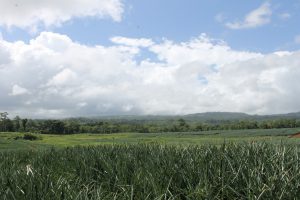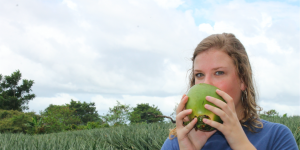 At the next farm, we met the manager, who runs the farm for a Swiss man that owns it. It was pouring rain so we weren't able to tour the farm itself, but we were able to see his drying and fermenting process, which was pretty neat. We were also able to see how they hand-make the large bags they send their finished beans out in, which were beautiful.
While I probably won't ever have the opportunity to grow cacao, it was an incredible learning opportunity that I was able to take a lot from. Most importantly, I now know how much work it takes to provide chocolate products to people all over the world!