My parents and I finally arrived in Alajuela, Costa Rica a few days before my CAES Avian Biology study abroad trip began after some interesting turn of events. As we approached the airport in Alajuela, our pilot informed us that the runway lights seemed to be turned off and they could not land. After about an hour and a half of circling the airport presumably to find out what had happened, we were told that lightning had struck the airport and shut down the power. We had to be diverted to Liberia, an airport located about 40 minutes from the current airport by air and about three hours away from Alajuela by car. We landed in Liberia around 10:30 PM their time and boarded a large bus to begin the long drive to Alajuela. After weaving through curved mountains and various patches of road construction, we arrived at the desired airport. We hailed a taxi and checked into our hotel in Alajuela around 2:30 AM. Certainly not the best way to begin my study abroad trip, but the staff was incredibly helpful and diligent on the plane, in the airport, and in the hotel.
The view from our hotel room the next morning was gorgeous and totally erased all memory of the mayhem that happened the night before. After  a delicious breakfast, we called an Uber (which in my opinion seems to be the cheapest and quickest way to travel if you are in a group of peoples) and headed to the city of San Jose.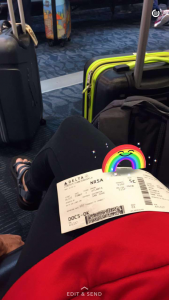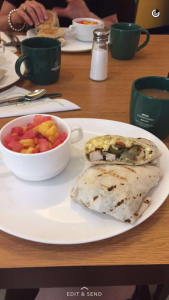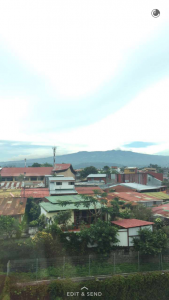 We checked into the Hotel Balmoral and went out to explore after we settled into the modest, yet comfortable hotel room. The streets were filled with people selling their creations or essentials (such as umbrellas). My favorite part of the city was the colors. The hotel we stayed in was bright orange and across the street, the buildings were collages of purple, pinks, oranges, and yellows. Local people were selling fruits and vegetables on the side of the road that looked larger and brighter than the foods we see back home at the local Kroger. That day ended with my parents and I having a quiet coffee on the patio of the hotel as the rain fell in sheets down on the city.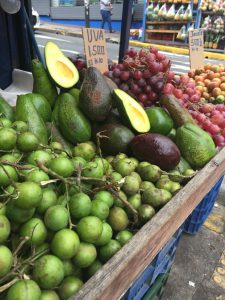 The next morning, we called another Uber to take us to Jaco Beach, a small beach located about an hour and 2o minutes away. Our driver was a young man named Byron who spoke a little English. He told me that he learned to speak English from books and watching movies with English subtitles. Although he said his English was poor, I was very impressed with his self-taught skill and was able to have very comprehensive conversations with him.
Jaco Beach was much different than the beaches along the coast of Georgia. They had moderately high waves that seemed to attract a lot of surfers. The water was lukewarm and felt fantastic as it leisurely lapped against the shore. The sand felt bouncy and soft. It was black and red in color. The color of the sand must have been from the sediment that eroded off the volcanic rock and red clay of the mountains surrounding the area. There were no shells, only round, smooth rocks. After lunch (which our Uber driver also enjoyed with us), we headed back to San Juan to have dinner at the hotel.
It is now May 8, the day my study abroad program officially begins. The same Uber driver (Byron) picked us up from the hotel and dropped me off at the Courtyard Marriot in Alajuela before taking my parents to the nearby airport. Now that my parents have left and I await the arrival of the rest of the party, I begin to wonder and worry about my travels ahead. Have I packed enough or too much? Will my four years of elementary Spanish classes be enough to get me through the trip or will there be a large language barrier? We were very lucky to have a driver who understood us; I could communicate with him in what little Spanish I knew and with the little English he knew. What if I'm not so lucky again? Will I be very homesick?
Perhaps my biggest fear is the idea of meeting new people and making friends. I'm a very shy person so it's often difficult for me to build connections right away. Will three weeks be enough time to bond with my fellow classmates?
My next biggest fear are the mosquitoes. Mosquitoes LOVE me back home so I can imagine they're probably going to love me just as much in the rain forest. I'll update on how well my bug spray works so that any future travelers reading this can use the same kind as I or steer clear of it all together!
I'm excited to take on this challenge and grow in my professional knowledge and personal character.
As the locals say, "Pura Vida!"
P.S. I'll upload a list of what I packed once I find out what was good/bad to pack at the end of my travels!