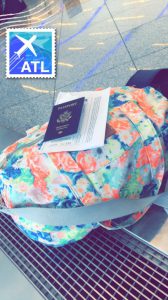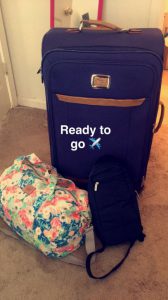 Preparing for my first trip out of the country was very exciting yet also very nerve-racking. It was difficult for me to find a balance between packing everything I needed and not over packing. I normally over pack everywhere I go because you never know exactly what the weather will be like, or how many times you will change clothes depending on the different types of activities you do that day. However, in the end I was very proud of myself at how well I packed for this trip. I left plenty of space in my suitcase for souvenirs, and I only packed clothes that I knew I would definitely wear while I was in Scotland.
Before the trip there were also a few items that I needed to get that I wasn't anticipating when I signed up for this class. My professor recommended that we use a credit card instead of a debit card while in Scotland because it is easier to get charges canceled on your credit card if it happens to be stolen while you are overseas. Before this trip I didn't have a credit card, so this was something that I made sure to order before the trip to make sure that I was keeping my money safe. Another item that I was not expecting to get before traveling overseas was an outlet adapter/converter for our phone chords and other appliances. I had no idea that other countries used different outlets than us. Another item that I found very useful to buy for this trip was an anti-theft cross body sling. I originally planned on getting a money belt for this trip, but I thought that the cross-body bag would be more useful for me so that I could carry larger items with me such as my contact solution/case, Tylenol, and souvenirs that I didn't want to carry in my hands. I also thought that the cross-body bag was just as safe as a money belt since it had locking compartments and slash-resistant inner panels and straps. The bag also had RFID blocking card slots to keep your credit cards safe. I will definitely continue to use this bag when I travel abroad again or to a new place.
Today is our departure day! My most memorable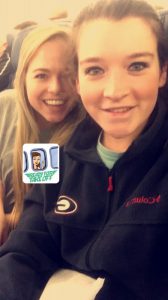 experience was the first plane ride from the U.S. to Amsterdam. I've have never been outside of the U.S. (besides the Bahamas), so it was a completely new experience for me. It felt very exciting to show the workers my passport and get it stamped for the first time. I also really enjoyed the plane ride. I've have flown a handful of times where it was a relatively short flight and I didn't have any entertainment or meals served to me. I was very impressed that this flight served two meals, two snacks, and even two glasses of wine. I was even impressed with the free movies and entertainment available to us. It was definitely an enjoyable flight besides the fact that it was difficult to sleep.