So before I came on this trip, my main goals were to live out my European Dream by riding though Toulouse on a bike and by taking a  train ride to some other city on my own. This past weekend I got to do  just that and it was completely satisfying!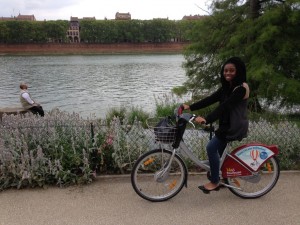 On Saturday I finally got the chance to ride around Toulouse on a bike after my first failed attempt the week prior. It was really fun because I did  it with a group of friends and it we got to see how huge Toulouse actually is. It was a completely amazing experience! I loved the feeling of having the wind blow through my  yarn twists as I explored all the nooks and crannies of the city, and it was a completely liberating experience traveling on a set of wheels and not having to worry about paying for gas or parking. The bike ride through the city was more than I imagined it would be. There is a huge difference between seeing the city on foot and then seeing it on a bike. The image of the Mairie de Toulouse was completely enhanced and then the view of the Garonne River  was even more vivid as I rode across the Pont Neuf. This was not my first time riding a bike, but it was my first time I was actually traveling beyond the limits of my neighborhood at home. Even though I was not used to having to dodge several people on a bike and I literally almost ran someone over, I can say that it was a completely satisfying day.

 Then on Sunday I took a train with one of my friends to Collioure. This  was the first time in my life where I actually felt like an adult… young  adult… well a kidult (I'm still a kid at heart). The fact that we actually  planned this day trip, made the train at 8 am, and then spent an incredible day on the Mediterranean Coast exploring castles and everything  was completely mind blowing. I never imagined that I would actually be doing something like this. I still can't even believe that I was only 15 minutes from Spain (and I most definitely  WILL be telling people that I went to Spain because I basically did)! I tried as much as I could to hold onto every moment of it because it was such an unbelievable experience, and honestly if I did not take any pictures, I would not have believed that it happened. Everything was just so perfect! From the weather, to the food, to the semi-painful rock beach, I enjoyed every part of it.
Looking back on that weekend, it was just completely satisfying! I got to see the city behind the bars of a bike and see some more of Europe on my own behind the windows of a passenger train. This one weekend is definitely going to be the highlight of my summer.