March is National Peanut Month, a time to celebrate the nutritious and delicious peanut.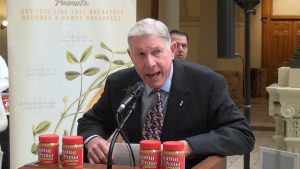 The Georgia peanut industry gathered together on March 4 to celebrate one of the most popular nuts in the world for the 2019 Georgia PB&J Day at the Georgia State Capitol in Atlanta. Elected officials were involved in the celebration, including Governor Brian Kemp. The governor presented a proclamation recognizing March as National Peanut Month.
Peanuts and products made from peanuts are foods that can be celebrated not only for their taste, but also their nutritional value. Through one serving of peanuts, a person consumes a significant amount of protein, Vitamin E, niacin, folate, phosphorus and magnesium.
Visit here for more information about peanuts and the 2019 Georgia PB&J Day.