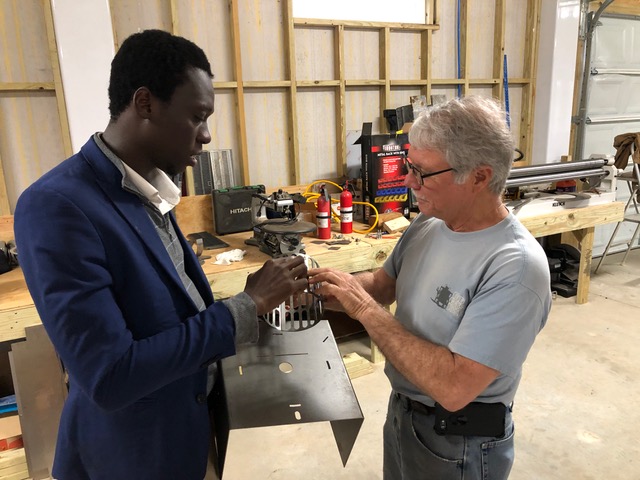 Peanut buyers and researchers in southern Africa have welcomed a small-scale, mechanized peanut shelling system produced by the Peanut Innovation Lab that allows them to shell and sort nuts in a fraction of the time it takes to do the tasks by hand. The system includes several prototype models of precise, but small-scale shellers, aspirators and sizing shakers that can be motorized or hand-cranked.
Now, the Peanut Innovation Lab is working with an equipment manufacturer in Ghana to see if similar machines could be made there. 
SAYeTECH, an equipment fabricator in Ghana that has a working relationship with the Soybean Innovation Lab, is exploring the possibility of manufacturing these models and also adapting their well-known multi-crop thresher to use with peanuts. Building on the relationship with the Soybean IL, the Peanut IL recently hosted SAYeTECH's Jeffrey B. Appiagyei on a trip to South Georgia to meet with Frank Nolin, the man who designed and fabricated small-scale peanut processing machines used in several countries in Africa, the U.S. and the Caribbean.
"We've worked with Frank for many years on several technologies at different scales. He has tons experience with the peculiarities of peanut processing and is very practical and generous. Every small project leads to several others because of the need and opportunity," said Peanut Innovation Lab Assistant Director Jamie Rhoads.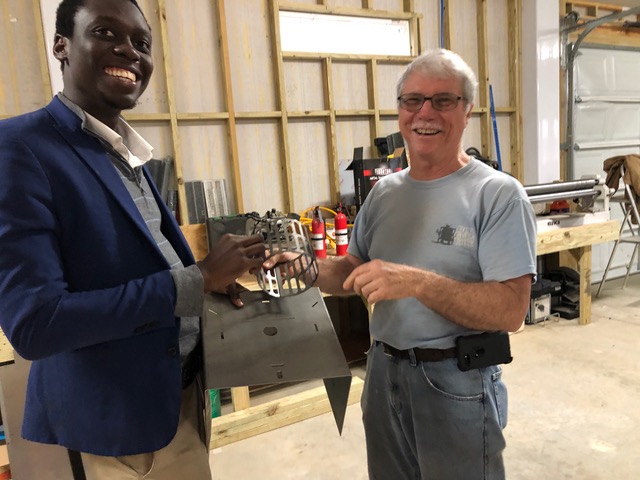 Mechanizing the time-intensive process of shelling by hand not only can increase production, but also improves quality, since nuts must be shelled to be tested for moisture and aflatoxin. Quick screening for contamination allows groundnut buyers to select the highest quality nuts, which gives farmers incentives to follow best practices.
In February, Appiagyei traveled to South Georgia with Rhoads to meet with Nolin, a semi-retired engineer who worked for decades manufacturing the large-scale equipment that serves Georgia's peanut industry. Since selling his business, Nolin Steel, to his son, Frank has also started a new business, Frank's Designs for Peanut, to address the specific need in these emerging markets. Appiagyei was able to inspect prototype machines made by Nolin and brainstorm how they might work in West Africa.
Now back home in Ghana, Appiagyei is exploring how he might adapt the existing multi-crop thresher with Nolin's designs for peanuts to both thresh and shell peanuts.
The multi-crop thresher created through collaboration with the Soybean Innovation Lab works well with soybean, cowpea, maize, millet, sorghum, beans, barley, wheat and rice, but it breaks peanuts during the threshing process.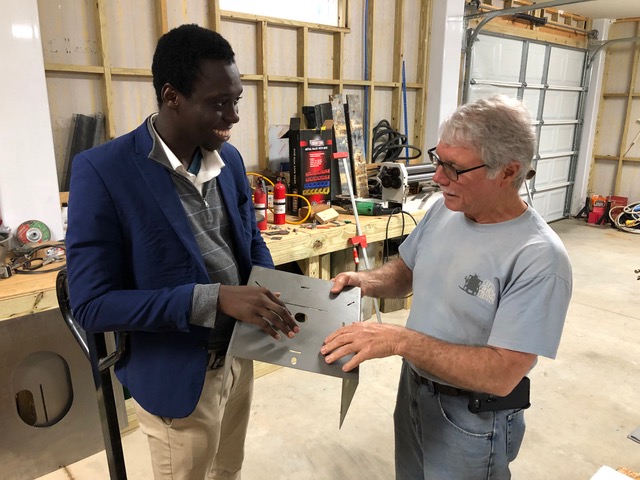 Multi-crop threshers, as opposed to single-crop threshers, are more attractive to both farmers and services providers, according to research by the Soybean Innovation Lab.
"After speaking to Frank and Jamie, I see how the multi-crop thresher design can be modified to thresh peanuts," said Appiagyei, who will share the designs for a peanut-adapted multi-crop thresher when it is complete.
The Peanut Innovation Lab works to improve peanut production, increase food safety, and raise awareness about the nutritional value of peanut in developing countries.
SAYeTECH builds smart agricultural machinery using a human-centered design approach to fit the needs of African producers.