Plant growth regulators have been used to improve growth, flowering, and fruit quality in different fruit crops. In stone fruits, there are several plant growth regulators currently available and used within the standard management practices for fruit production.
Fruit Firmness – Ripening
Among the research done in Dr. Chavez's lab. Fruit ripening has been of interest. In 2014, 2015, and 2016, ProGibb® is a 4% gibberellic acid (GA3 – promotes growth and elongation of cells) liquid formulation and Retain® is 15% aminoethoxyvinylglycine (AVG – ethylene inhibitor) soluble powder formulation, both produced by fermentation offered by Valent BioSciences Corporation, IL. Falgro® is 4% gibberellic acid (GA3) offered by Fine Agrochemicals Limited, Inc. These plant growth regulators improve peach fruit firmness and quality during harvest in Georgia and the Southeastern U.S. Traditionally, peach fruit is harvested using commercial standards that allow the growers to offer a fruit that maintains firmness and quality during transport, delivery, and commercialization. Peach growers in middle Georgia have approx. 40-60 different varieties that allow them to offer fresh produce throughout the season from early/mid- May through early September. Each variety can ripen in a period approximately of one to two weeks. Peach growers have brought to the attention of Dr. Chavez, and the Peach Area Agent, Mr. Jeff Cook, that sometimes there are production gaps that cannot be filled with the ripening window of the peach varieties currently available. The use of GA3 and AVG could increase fruit firmness of selected varieties that could allow the growers to extend the variety harvesting period, which in turn can increase the peach grower overall profits throughout the harvest season. Dr. Chavez and Mr. Jeff Cook, in collaboration with the middle Georgia peach growers, began a multi-year trial in 2014.
In 2014, differences in fruit firmness were seen in 'Early August Prince' and 'Ruston Red' peach varieties in Lane Southern Orchards, and no effect was observed for 'Early August Prince' in Pearson Farms.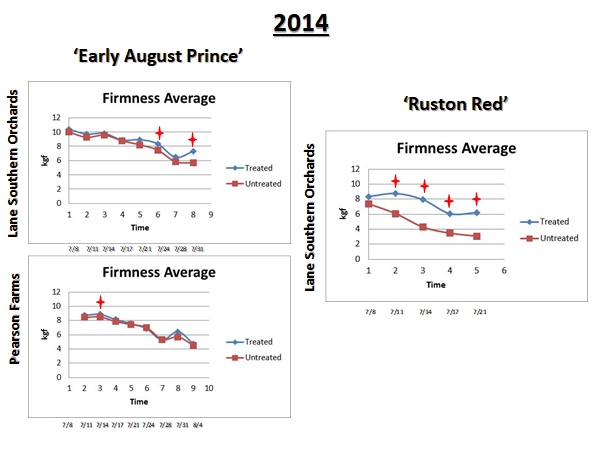 In 2015, differences in fruit firmness were observed in 'Springprince' and 'Juneprince' in the Fort Valley State trial peach orchard, and 'Babygold' in Fitzgerald Farms. For both years, the fruit treated with plant growth regulators, GA3 and AVG, were firmer than the untreated fruit.
In 2016, differences in fruit firmness were seen in 'Scarletprince', with GA3 (ProGibb® formulation) plus AVG and only AVG treatments having the highest firmness in comparison with only GA3 (ProGibb® or Falgro®) treatments. Currently, GA3 and AVG are being used as a standard tool for crop management.