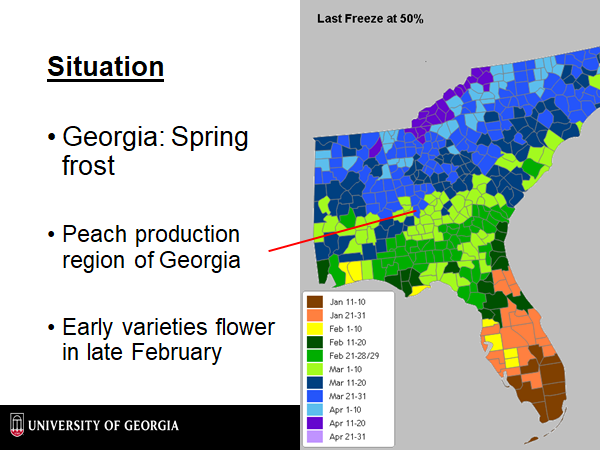 Frosts and freezes can produce major losses in Georgia peach production. Dr. Chavez, in collaboration with Dr. Lindstrom at UGA and Dr. Olmstead at the University of Florida, developed a USDA-Block grant project to determine the critical bud freezing temperature of peaches to establish freeze damage level thresholds and effect on crop yields on multiple varieties of peaches. This grant also included the study of the critical bud freezing temperature of blueberries in collaboration with Dr. Smith. This project was funded in 2015 and allowed Dr. Chavez to hire Ms. Jun Liu as a MS student working with peach critical bud temperature. Dr. Chavez, Dr. Lindstrom, and Ms. Liu established freezing tolerance tests as the standard methodology to estimate critical bud freezing temperature in peaches. These analyses were compared with differential thermal analyses (DTA).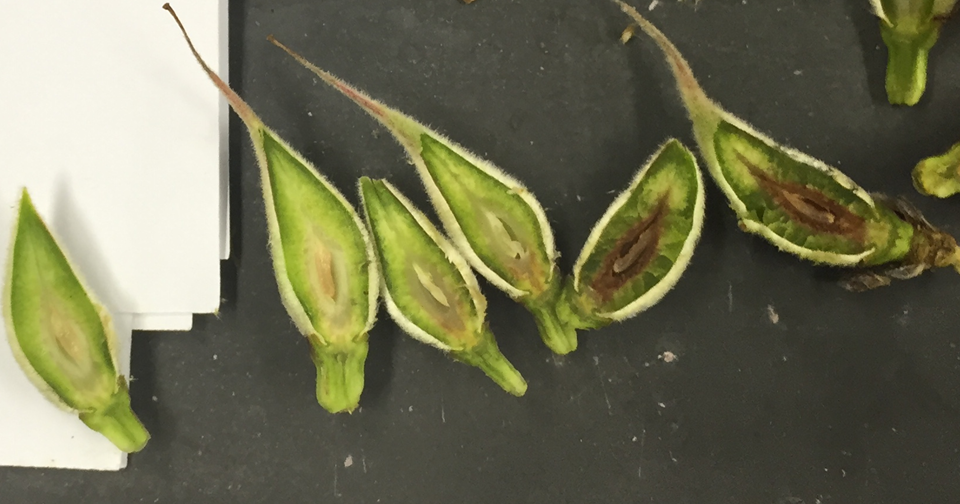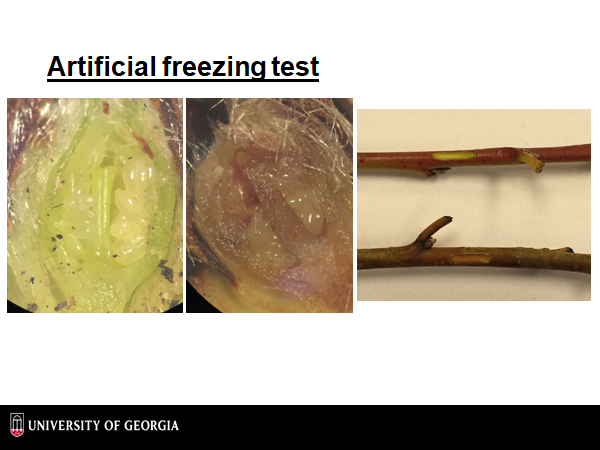 Artificial freezing tests are used and they are good estimators of field survival. Different tissues were treated with controlled freezing temperatures to evaluate survival or damage. In general, tissues damaged by freezes will present a brown or black discoloration in the flower bud tissue which represents damaged tissues that have such coloration usually due to oxidization. Dr. Chavez and Dr. Lindstrom used this technique to determine the critical bud freezing temperature expressed as LT50, the lethal freezing temperature that killed 50% of all samples. During the first year of this experiment, Dr. Chavez, Dr. Lindstrom, and Ms. Liu established the protocol required for the freezing tolerance tests in three different tissues: 5cm stems with buds, 20cm stems with buds, excised floral buds, and excised vegetative buds. These tests now have been used for three seasons in an early-season variety 'Flavorich' and a mid-season variety 'Elberta'. The publication referent to this research project is currently being reviewed for re-submission.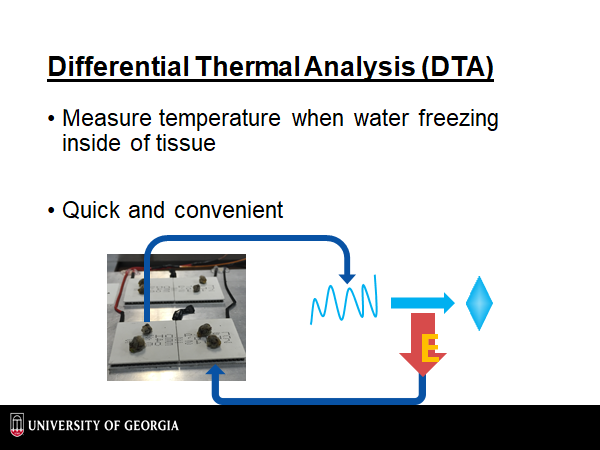 DTA is another method that can be used to estimate cold hardiness. Dr. Chavez, Dr. Lindstrom, and Ms. Liu prepared a set of thermoelectric modules (TEM) to measure the temperature difference between samples and the inert reference materials to which the TEM are connected. The temperature differences will be measured as voltage changes. DTA measures temperatures of freezing events happening inside of a sample in a quick and convenient way. DTA has been used for three seasons as well, with the first season used to tune the protocols and sensitivity of the tests. Ms. Liu found a relationship between freezing tolerance tests and DTA results. These results are in press in HortScience with the title of "Differential thermal analysis of 'Elberta' and 'Flavorich' peach flower buds to predict cold hardiness in Georgia".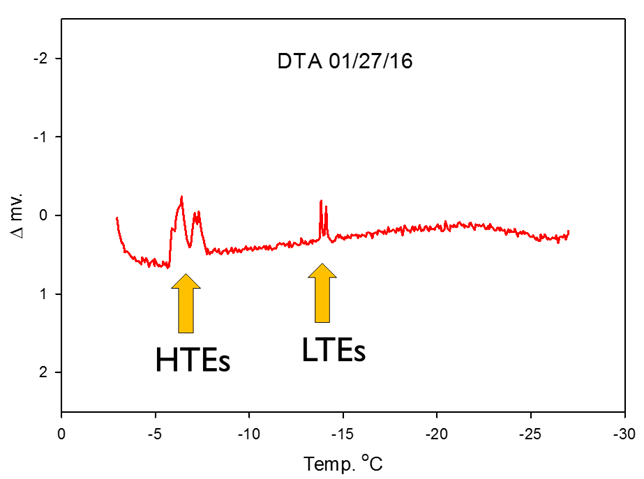 Complementary to the objectives of the USDA Block grant, Dr. Chavez collaborated with Dr. Borisova at the University of Florida to interview the Georgia peach growers to establish a needs assessment for freeze protection strategies. In 2015, Dr. Chavez set-up interviews with four of the five major Georgia peach growers representing 80% of the peach acreage in Georgia. Some of the research and educational needs identified in this study was to establish a quantitative study of yield data for peach varieties in Georgia disaggregated by variety and harvest period. In addition, this study identified a need for research and education opportunities to examine optimal frost protection coverage and configuration for orchards. The results from this study were published in 2017 in HortTechnology.
DTA is a promising method of estimating cold hardiness. However, more work is needed in order to establish better models for cold hardiness.