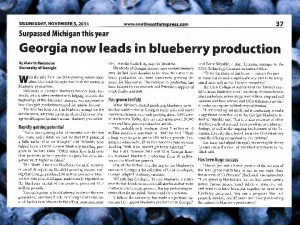 Although Georgia might be called the Peach State, a more accurate nickname would be the Blueberry State. This year, Georgia became the top blueberry producing state in the U.S., according to a news story from The Red and The Black, an independent student newspaper, serving the University of Georgia community.
Blueberry production in Georgia this year is estimated at 96 million pounds, which is up from 5 to 10 million pounds in 1990 says Scott NeSmith, professor and blueberry breeder at the University of Georgia's Griffin Campus.
NeSmith says Georgia will always be known for peaches, even though the state is experiencing exponential growth in blueberries.
"We should always be proud of our peaches. Our peaches are fantastic. It's just that peaches reached their plateau a few years back and blueberries are still growing. Blueberries have put us on the map in a different way," he says.
Posted at https://www.growingproduce.com/fruits/berries/georgia-is-the-top-blueberry-state-in-the-nation/?utm_source=knowledgemarketing&utm_medium=newsletter&utm_campaign=afgenews%2011192014&omhide=true
Full article available at https://www.redandblack.com/uganews/georgia-blueberry-production-outgrows-peaches/article_8d2d4b74-5f9a-11e4-91b5-001a4bcf6878.html