UGA Professor Receives $5.4 Million Grant to Combat the Most Destructive Asiatic Fly: A Keystone Pest of Fruit Crops in the United States
Published on 9/18/2020 By Emily Cabrera, UGA IPM Communications Coordinator
The University of Georgia has just been awarded a $5.4 million grant by the U.S. Department of Agriculture, National Institute of Food and Agriculture through the Specialty Crop Research Initiative (SCRI) to develop long-term sustainable methods for controlling the spotted wing drosophila (SWD).
The 2020 Blueberry IPM Field Day will be held online
Due to the COVID-19 outbreak, the 2020 IPM Field Day will be held online. We want to make sure that our blueberry growers, who are still working hard to feed Americans during these uncertain times, can get the information they need to have a successful growing season. To register, please visit: https://attendee.gotowebinar.com/register/1714103849236858380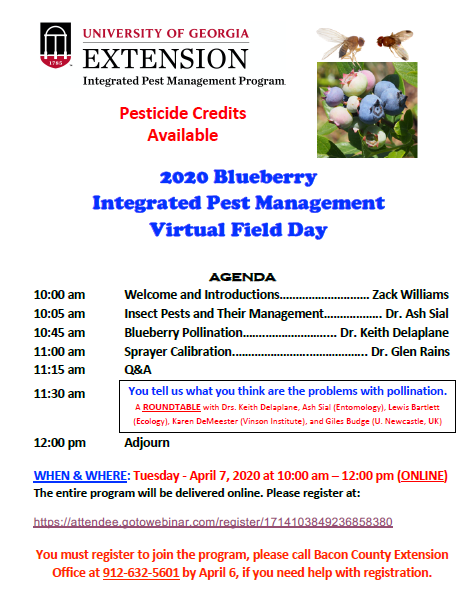 Southeast Georgia experiences improved blueberry season
Published on 10/01/19 By Maria Sellers for CAES News
Ideal weather conditions this season allowed blueberry farmers in southeast Georgia to produce their best crop since 2016, according to University of Georgia Cooperative Extension Agent Renee Allen.
Farmers like Albert Wildes agree.
"In 2017 and 2018 we had a couple of late freezes, and 2017 was devastating. The 2018 season was not as bad as 2017, but it was still bad. We had better yields in 2019," said Wildes, who farms about 50 acres in Alma, Georgia.
According to Allen, who specializes in commercial blueberry…