Hay/Baleage Evaluation
Hay and baleage samples will be evaluated in the following categories: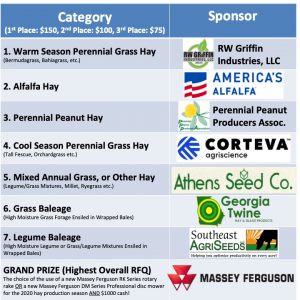 Hay entries will be judged using NIR testing procedures by the University of Georgia Feed and Environmental Water (UGA-FEW) Lab. The entries will be ranked using the Relative Forage Quality (RFQ) evaluation system, which accounts for protein, energy and fiber digestibility. If necessary, ties in RFQ scores will be broken based on Crude Protein and Total Digestible Nutrient (TDN) Values.
Several prizes will be awarded to the winning entries under all of the above six categories of the contest as described below:
 GRAND PRIZE (Overall Highest RFQ): The use of a new Massey Ferguson DM RK Series rotary rake or DM Series Professional disc mower for the 2020 hay production season AND $1000 cash!
1st Prize in Each Category: $150
2nd Prize in Each Category: $100
3rd Prize in Each Category: $75
To qualify for entry to the SE Hay Contest, the producer and submitting Extension Agent must complete the Contest ENTRY FORM. This form, along with a $22 check ($20 for the testing fee plus $2 for Hay Contest entry fee) made payable to UGA FEW Lab, MUST BE SUBMITTED SIMULTANEOUSLY to:
Southeastern Hay Contest
Feed and Environmental Water Lab (FEW)
2300 College Station Road
Athens, Georgia 30602-4356
All Entries Must Be Received by the FEW Lab by: 5 p.m. on Thursday, September 19, 2019.
 Click here to download the RULES and ENTRY FORM!