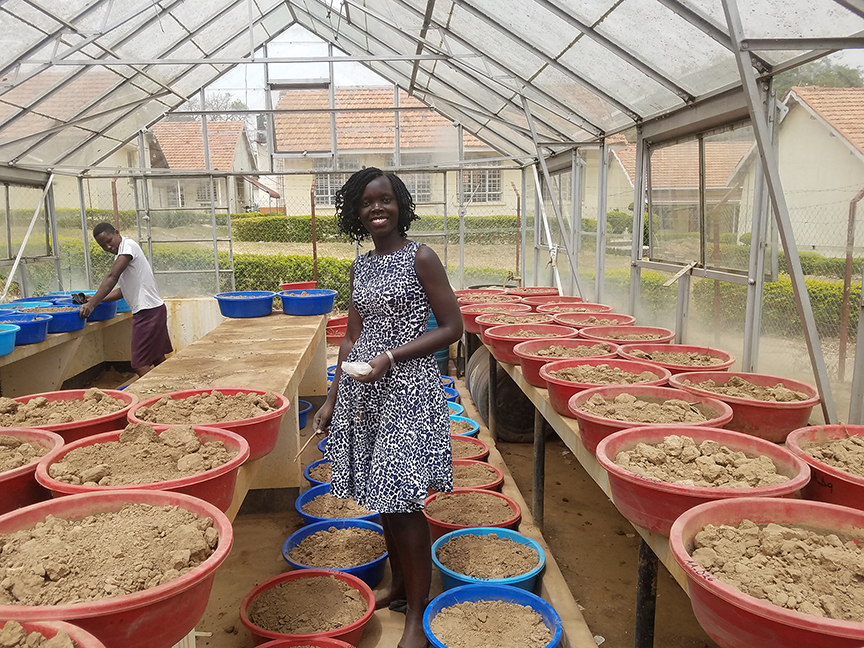 Esther Achola won the prestigious Joe Sugg Award at this week's American Peanut Research and Education Society meeting, presenting, "Novel loci for Resistance to Groundnut Rosette disease in Cultivated Peanut."
The 54th Annual APRES meeting was held July 12-14 in Dallas, Texas, where 21 PhD and 12 master's students presented, along with dozens of professionals working in weed science and entomology, food science, plant pathology production, genetics and extension.
Achola, a PhD student at Makerere University in Uganda, is the first international student to win the award, as well as the first to win while presenting virtually.
Achola works with the Feed the Future Innovation Lab for Peanut, helping to map the location within peanut's genome for resistance to groundnut rosette disease. GRD is caused by a complex of viruses transmitted by aphids, and is the most serious disease threat in parts of Africa. By better understanding exactly where GRD resistance is within the peanut genome, breeders can quickly create varieties with different market attributes and reliance to other stresses, while also maintaining strong genetic resistance to GRD through marker-assisted breeding.
The overall project, Mapping GRV resistance, is headed by Josh Clevenger, a scientist who works at Hudson Alpha and who also won the Joe Sugg Award in 2016.