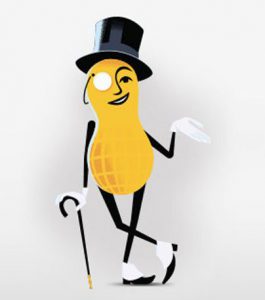 Planters, the Virginia-based snack food company known for peanuts, is getting a lot of media attention after killing off its iconic mascot, Mr. Peanut.
The company released a commercial last week depicting the top hat-wearing character driving the Nutmobile (a peanut-shaped mini-bus) over a cliff. As Mr. Peanut and two passengers – actors Wesley Snipes and Matt Walsh – cling to a branch on the side of the cliff, the 104-year-old character voluntarily lets go to save his friends.
The video sets up his funeral, an advertisement which will air during Sunday's Super Bowl, the most-watched broadcast on television in the U.S.
A child, Antonio Gentile, created Mr. Peanut in 1916, when 10-year-old Planters held a contest to design a character for the company.