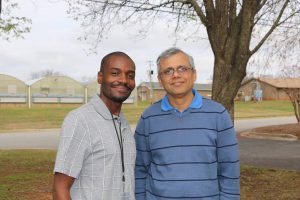 Aggrey Gama has successfully defended his Ph.D. dissertation at University of Georgia under the Legume Scholars Program and returned to his home in Malawi.
Gama was the first student to complete a PhD under the Legume Scholars Program, a project funded by the Innovation Labs for Peanut and Legumes, as well as ICRISAT, to facilitate grain legume research and bring talents young researchers forward.
Gama investigated groundnut value addition and safety in the Food Science & Technology Department at the University of Georgia under Dr. Koushik Adhikari. Dr. Wanjiku Gichohi from ICRISAT is his CGIAR advisor.
With his research, he has developed a nutrient rich peanut-based drink and conducted consumer acceptance and nutritional testing in Malawi.  He evaluated various peanut varieties grown in Malawi to select the most appropriate in terms of nutrient composition and sensory characteristics. The sensory profiles revealed significant differences among the varieties. The research also included an assessment of the dominant factors affecting food choice in Malawi.