Evolution and Diversity of Plant-Pathogenic Fungi
Research in the lab focuses on understanding the genetic basis of emerging plant diseases caused by fungi. We are particularly interested in the evolutionary processes that contribute to population-level diversity, to the formation of new species, and to species diversification. We aim to uncover the genetic basis for differences in pathogenicity, virulence, and host specialization within species and among closely-related species. We want to understand differences between agricultural and natural populations of fungal plant pathogens and how agriculture shapes population structure and diversity. We use population genetics, population genomics, comparative genomics, and molecular phylogenetics to answer our questions.
Other interests include phylogeography, fungal mating systems, and using population genetics to solve epidemiological problems in the field including sources of inoculum, pathogen overwintering mode, populations overcoming host resistance, and the evolution of fungicide resistance.
See our Research & Publications pages to learn more about our work.
Lab News
April 26, 2017. This grant will allow us to investigate the evolution of azole-resistant Aspergillus fumigatus in agricultural and clinical environments.

Thomas Gottilla, undergraduate researcher, wins third CAES oral presentation award in consecutive years for his research
April 15, 2017. Thomas won third place for his presentation on Fusarium wilt of cotton.

Leilani Sumabat, PhD student, and Katrina Laurel, MS student win presentation awards
March 8, 2017. Lani (far right) was awarded first place and Katrina (far left) was awarded second place for their presentations at the Annual Georgia Association of Plant Pathologists Meeting in Jekyll Island, Georgia.

Hao-Xi Li Awarded PhD Degree
December 16, 2016.  Congratulations, Haoxi!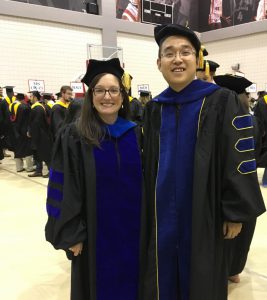 Jeff DeLong Awarded Master of Science Degree
May 13, 2016.  Congratulations, Jeff!
Hao-Xi Li, PhD student, wins American Phytopathological Society student travel award
April 21, 2016. Hao-Xi was awarded the Donald E. Munnecke Student Travel Award for the APS annual meeting in Tampa this summer.

Thomas Gottilla, undergraduate researcher, wins CAES oral presentation award for his research
April 15, 2016. Thomas won fourth place for his presentation on evolution of mating-type genes in gummy stem blight fungi.

Austin Nuckols, undergraduate lab assistant, recognized at Student Employee of the Year luncheon
April 20, 2016. Austin was chosen as one of the top 100 student workers on campus at UGA. Good work Austin!

Jeff DeLong wins Cedric Kuhn Outstanding Graduate Student Award
March 9, 2016. Jeff (right) is presented with the annual Cedric Kuhn Outstanding Graduate Student Award from Graduate Coordinator Ron Walcott to recognize excellence in the pursuit of graduate studies by an M.S. student in the Department of Plant Pathology at UGA.

Leilani Sumabat, PhD student, wins first place award
January 6, 2016. Lani (center right) won first place in the Disease Council for her presentation on the emergence of target spot of cotton at the 2016 Beltwide Cotton meeting in New Orleans, Louisiana.