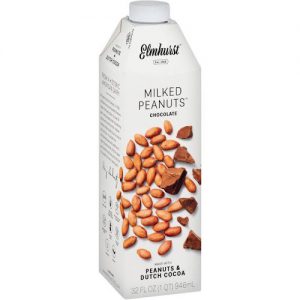 Elmhurst has discontinued its line of peanut drinks just two years after launching the products. The change includes Milked Peanuts-Chocolate, Chocolate Peanut Protein and Vanilla Protein Shakes. The company stopped making the original Milked Peanuts drink at the end of last year.
"We made this tough decision based on manufacturing difficulties involving peanuts," Elmhurst said in a statement to its customers. "By removing this ingredient from our portfolio, we will create more capacity—both in research and production—for the exploration of new, innovative products."
"Members and alternates at the National Peanut Board, our farm families and staff are disappointed, but we still believe a peanut milk product would be welcomed by consumers who enjoy alternative milks," said Bob Parker, president and CEO of the National Peanut Board. "We are confident that a peanut milk product with an equivalent nutrition profile to dairy milk; with the same amounts of protein, calcium, Vitamin D and other fortification, at a price point competitive with existing alternative nut milks would be a success."
Peanut and nutrition advocates were excited when Elmhurst, a former dairy milk producer in New York, launched the product in 2017. While other nut milks may contain water and fillers, Milked Peanuts contained just five ingredients, mostly healthy peanuts.
The NPB plans to contact other makers of alternative milks to draw attention to the potential for peanut milk products.