Experts who worked together in the Peanut Innovation Lab precursor, the Peanut & Mycotoxin Innovation Lab, recently co-authored a book chapter on weed control in peanut.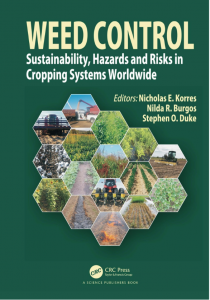 Weed scientists at North Carolina State University, the Council for Scientific and Industrial Research's Crops Research Institute and the University of Development Studies in Ghana wrote "Sustainable Weed Management in Peanut," a chapter in CRC Press' book "Weed Control Sustainability: Hazards and Risks in Cropping Systems Worldwide."
The chapter discusses the impact weeds have on peanut production and how producers work to minimize the negative effect on yield, using examples from several countries including the Feed the Future target country Ghana.
Drs. Grace Bolfrey-Arku, Israel Dzomeku and David Jordan were actively involved in the work of the Innovation Lab and, along with lead author Dr. Ramon Leon, have created an important resource for scientists and producers who are interested in managing weeds in peanut.
The book – which is available through Amazon – is divided into two sections: One that discusses the sustainability, hazards and risks in weed science, and a second that covers specific cropping systems.
"Public concerns about sustainable food production, the necessity for human and environmental protection, along with the evolution of herbicide resistant weeds, call for a review of current weed control strategies. Sustainable weed control requires an integrated approach based on knowledge of each crop and the weeds that threaten it," editors say in the Preface.