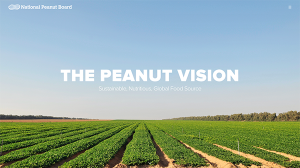 The National Peanut Board has launched an engaging, informative new website that tout all the ways peanuts are valuable to our environment, health and communities.
The Peanut Vision: Sustainable, Nutritious, Global Food Source  sums up the power of peanuts in one statement: "Peanuts are positioned to meet the challenges of a growing world."
While 85% of the world's water supply goes to agriculture, the peanut plant produces food with a fraction of the water that tree nuts require, the site points out. (An ounce of peanuts requires 4.7 gallons of water, while almonds and walnuts need more than 70 gallons).
Consuming peanuts can help to maintain a healthy weight and decrease the risk of Type 2 diabetes, according to multiple studies. (Frequent peanut consumption could reduce the right of death from heart disease by 29%.)
The site also highlights the work of the Peanut Innovation Lab and its precursor, the Peanut & Mycotoxin Innovation Lab, in relieving and preventing global hunger. Malnutrition kills 5.9 million young children each year, and the main treatment for malnutrition relies on peanuts.
Check out the positive story of the peanut as it is told on the new PeanutVision.org site.