Jia-Sheng Wang, the lead scientist on a PMIL project to validate a system to detect aflatoxin in dried blood, has been awarded the 2018 Translational Impact Award from the Society of Toxicology.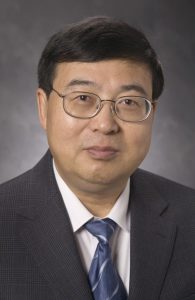 Wang serves as head of the Department of Environmental Health Science at the University of Georgia College of Public Health and has 35 years of research and teaching experience in toxicology, chemical carcinogenesis, molecular epidemiology and cancer chemoprevention.
His work with to identify biomarkers of aflatoxin exposure has advanced not only his own research to mitigate exposure to aflatoxin (which is carcinogenic), but also is helping other researchers around the world.
He is also a leader in exploring the role that natural products and dietary supplements may play in preventing cancer.
Founded in 1961, the Society of Toxicology is the preeminent professional organization for scientists who practice toxicology around the globe. The organization seeks to create a safer and healthier world by advancing the study and prevention of chemical, physical or biological agents that can harm people or the environment.
The Translational Impact Award is "presented to a scientist whose recent outstanding clinical, environmental health, or translational research has improved human and/or public health in an area of toxicological concern."
Read more here. Congratulations, Dr. Wang.