The aesthetic and commercial value of turfgrass can be jeopardized by feeding or the mere presence of insect pests (Potter and Braman 1991). If we take a vertical section of turfgrass, it can be broadly subdivided into three zones – above ground, thatch, and below ground (Williamson et al. 2015). Many pest insects occupy and utilize these zones as part of their lifecycle, herbivory, or predation. Some insects remain in one zone entirely or move out after spending some or most of their life. However, how predators interact with the prey within the narrow turfgrass canopy is unclear. The prey could be an insect pest, and their biology, density, behavior, and movement within zones may influence how predators interact. Many insect pests are reported within the turfgrass systems, such as armyworms, cutworms, mole crickets, ants, etc.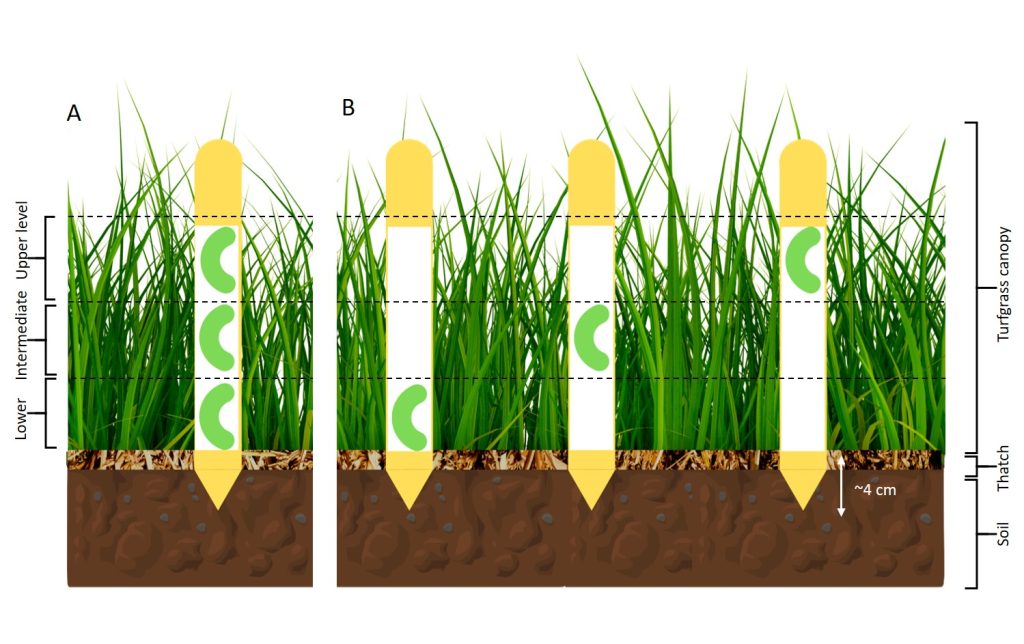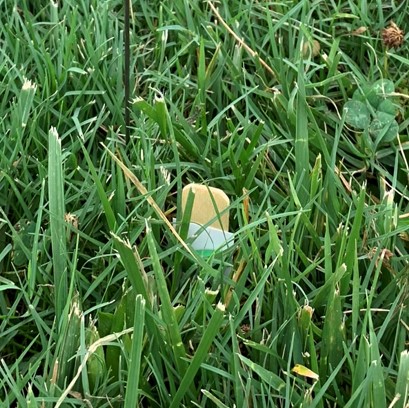 Turfgrass is maintained at various heights. The abundance of predators and prey organisms tends to increase with the increase in turfgrass height. This hypothesis was proven for rove beetles and spiders in cool-season turfgrass as more rove beetles were found in the taller turfgrass (Dobbs and Potter 2013). Regardless of the turfgrass height, it is important to understand where predatory activity or predation is concentrated in the turfgrass canopy. This information will help refine management tactics with minimal disruption to beneficial organisms.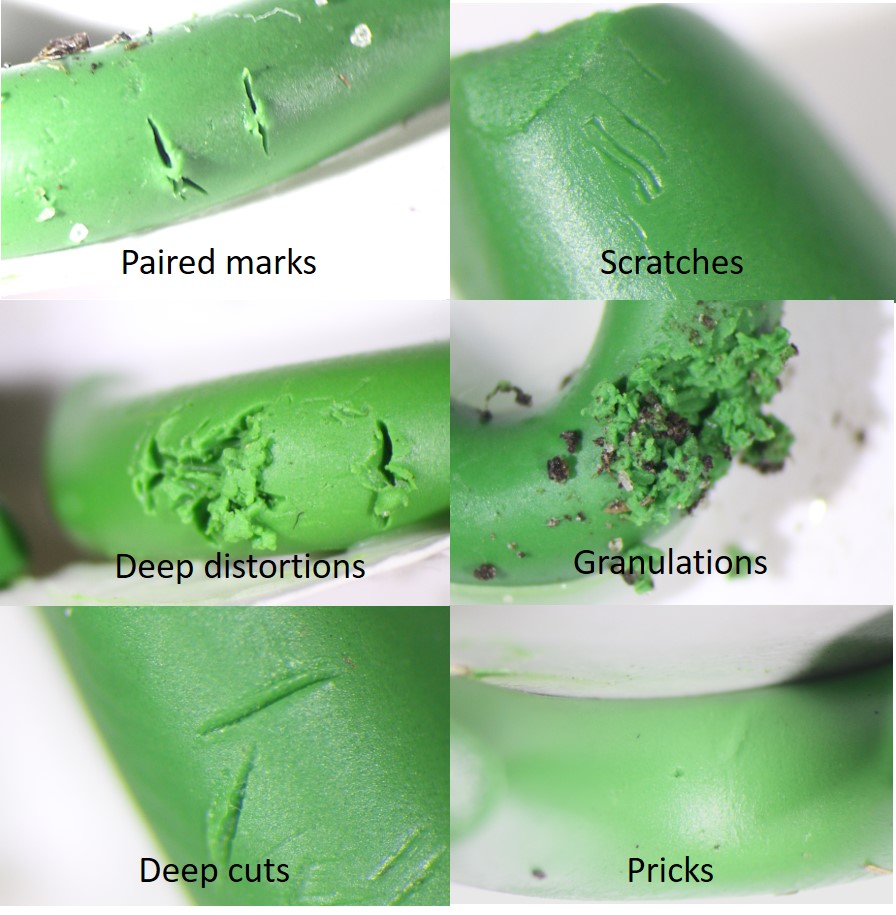 It appears that active populations of insect predators are more abundant on the soil or thatch surface than on the canopy above the soil surface in turfgrass. Larval stages of armyworms and cutworms are active within the canopy of turfgrass. Predators likely eat them, especially those on the soil or thatch surface. Moreover, the predators are likely to affect the behaviors of pest insects, such as mating, egg-laying, and movement (Dupuy and Ramirez 2019). Moreover, paired marks near the soil layer were the most abundant common impression. Previous research showed that ground beetles, ants, and other predators generated paired marks on the clay models (Khan and Joseph 2021). The most abundant predator in turfgrass is ants (Braman et al. 2002). Ants consume the eggs and larvae of armyworms and other turfgrass pests.
Some unintended factors could have influenced the data. It is unclear how much of these impression types were created by birds. The vertical placement of clay models could have reduced or overestimated impression types and their densities. Because the clay models were positioned to one side of the wooden stake, it could have limited the exposure to predators and reduced the attack rates. Many other factors could reduce the abundance of beneficial insects, such as height, temperature, etc.
In conclusion, greater interactions with foraging predators on clay models were observed along the surface of soil or thatch. High densities of rove beetles and spiders were more prevalent taller than in the shorter turfgrass (Dobbs and Potter 2014). Thus, more research is warranted investigating the role of turfgrass height and disruptive cultural practices on predators in various turfgrass genotypes.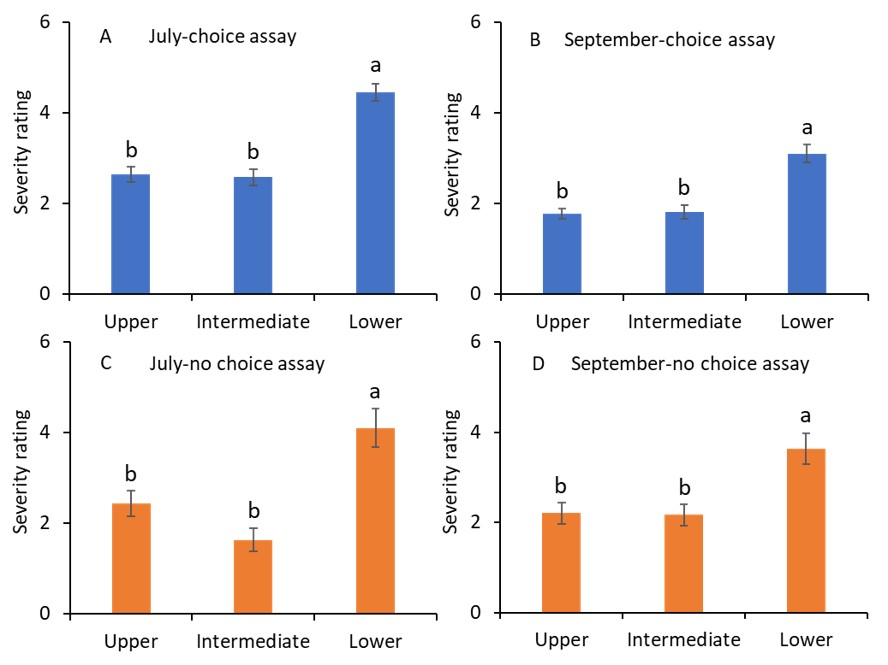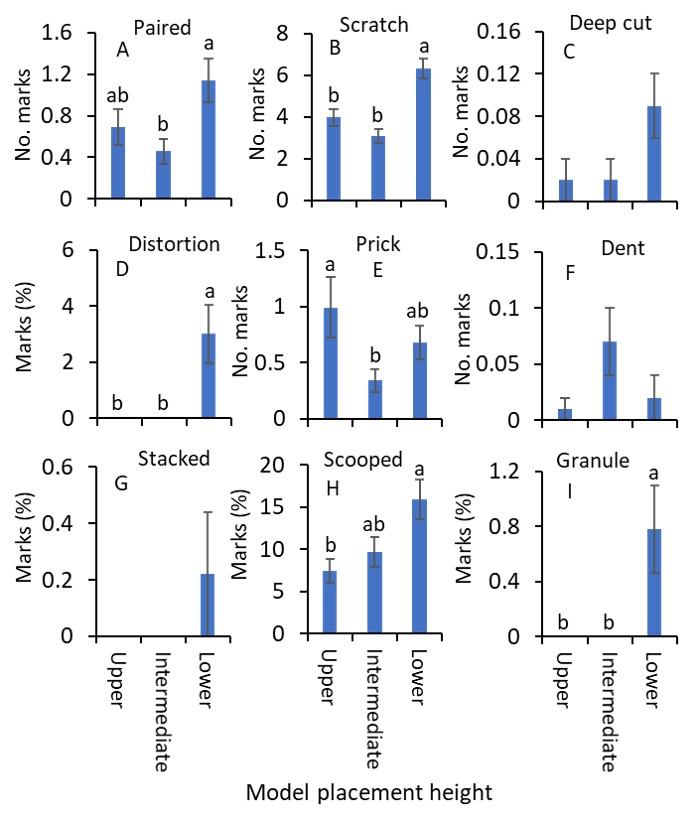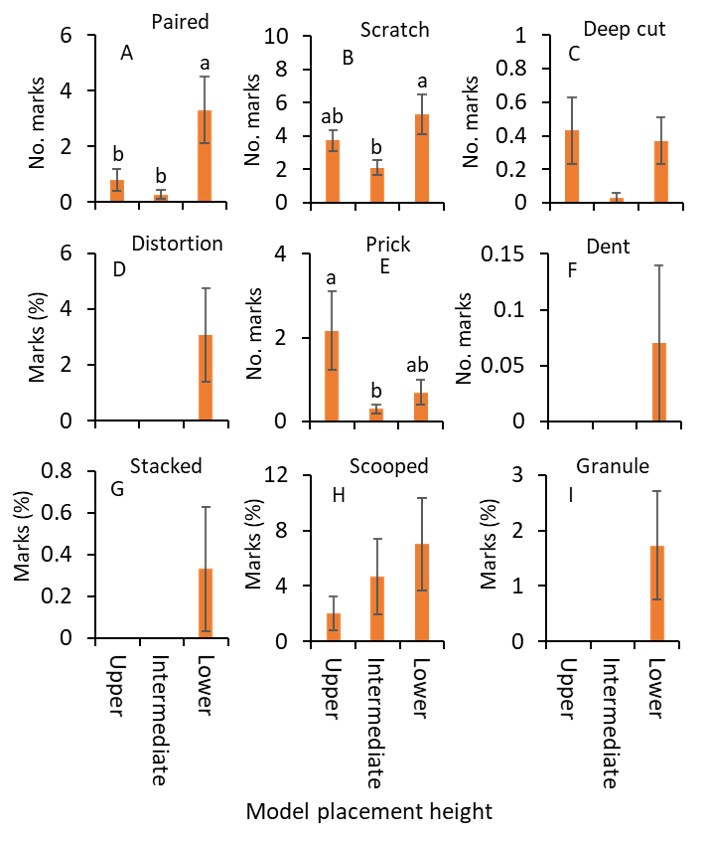 For more reading, please find the peer-reviewed article (below).
Khan, F.*, and S. V. Joseph. 2022. Vertical distribution of predator-prey interactions within turfgrass. J. Insect Sci. 22(5): 3; 1–7. https://doi.org/10.1093/jisesa/ieac050
Literature cited
Potter, D. A., and S. K. Braman. 1991. Ecology and management of turfgrass insects. Annu. Rev. Entomol. 36: 383–406.
Williamson, R. C., D. W. Held, R. Brandenburg, and F. Baxendale. 2015. Turfgrass insect pests. Turfgrass Biol. Use, Manag. 56: 809–890.
Dobbs, E., and D. A. Potter. 2013. Enhancing beneficial insect biodiversity and biological control in turf: Mowing height, naturalized roughs, and operation pollinator. Dissertation University of Kentucky, USA.
Khan, F. Z. A., and S. V. Joseph. 2021. Characterization of impressions created by turfgrass arthropods on clay models. Entomol. Exp. Appl. 169: 508–518.
Dupuy, M. M., and R. A. Ramirez. 2019. Consumptive and non-consumptive effects of predatory arthropods on billbug (Coleoptera: Dryophthoridae) pests in turfgrass. Biol. Control 129: 136–147.
Braman, S. K., A. F. Pendley, and W. Corley. 2002. Influence of commercially available wildflower mixes on beneficial arthropod abundance and predation in turfgrass. Environ. Entomol. 31: 564–572.
Dobbs, E. K., and D. A. Potter. 2014. Conservation biological control and pest performance in lawn turf: does mowing height matter? Environ. Manag. 2014 533. 53: 648–659.