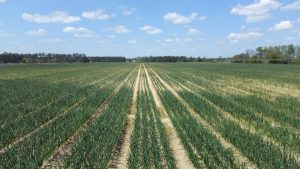 The nematology lab at UGA-Tifton reports another incidence of stubby root nematode (SRN) on onion in Tattnall county. The field was highly infested with the SRN and onion plants were severely damaged as can be seen in the figure (Photo: Chris Tyson). The area with severe yellowing and stunting of plants is where the grower used for the onion beds. He used Telone and Vapam in this area this past Fall and then transplanted the area with onion after the plants came off the beds. It is highly recommend that the growers:
Analyze their soils for nematodes before establishing plant beds and also after soil fumigation to make sure that the soil is free from damaging nematodes.
Since the SRN can move down deep in the soil profile, fumigants should be placed at least 12 inches deep in the soil.
Currently no onion cultivar with tolerance/resistance to SRN is available.